Gov. Peter Obi Lays Foundation For Projects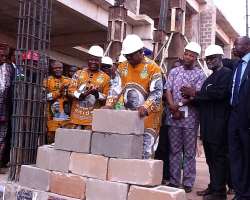 Gov. Peter Obi has said he preferred laying foundations for projects that have gone very high, whether it was road construction or structural projects to avoid the past practice whereby people laid foundation for structures and soon abandoned them.
He said this yesterday during the laying of the foundation for the second arm of the Onitsha Hotel Resort at the GRA, Onitsha, yesterday. The Hotel, both the first and the second arms, have reached 70% completion level.
Speaking further, the Governor said that what gladdened his heart was the fact that he made planning the cornerstone of his administration and that through prudent and painstaking planning, that he was able to do much in the State without borrowing a dime or raising a bond. He said that upon that, his Government had been able to meet her financial obligations, ranging from paying debts owned before him, liquidating arrears of pension owned workers since 1999 to the tune of N33billion, among others.
Speaking on the so many projects he flagged of and has continued to flag-off, the Governor said that his Government had set aside the money for the completion of those projects and called on the people not to worry. "Even the recent recruitment exercise were adequately planned for. We are recruiting over 3,500 civil servants and teachers. In other not to encumber the incoming Government, we have equally set aside their salaries for two years", Obi said.
The Governor who described what will happen in the remaining two months of his Government as "tsunami", said: "We shall do something unprecedented in the next two weeks. I do not want to let the cat out of the bag, watch out and see what will happen, including presentation of over 25,000 computers and generators to schools in the State all of which we had taken delivery of."
In his earlier remarks, the Commissioner for Housing, Engr. Patrick Obi said that his Ministry had literary been kept awake trying to move as fast as the Governor. He said that the first arm of the Hotel project would have been completed but for delays occasioned by the need to expand the hotel to 150 rooms to meet the specifications of foreigners already in agreement with the Government to manage the Hotel and the one also being built at Agulu Lake.
In her own remarks, the Senior Special Assistant to the Governor on Project monitoring, Mrs Chinelo Ofoche said that while her counterparts in other States were idle for want of projects to monitor, that covering the entire gamut of Governor Obi's projects was quite Herculean.
The Governor also inspected the on-going Shoprite Shopping Mall within the same expansive compound and expressed satisfaction with the speed and quality of work. He also thanked the contractor that dualised the road to the complex for a job well done.