Justin Bieber Finally Arrested For Drugs & Drag Racing!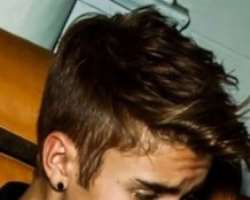 Pop star Justin Bieber has been arrested in connection with Driving Under the Influence (DUI) and drag racing. The police cuffed the 19 year old singer early this morning in Miami Beach after departing from a club.
According to RadarOnline, 'the singer was leaving from a club behind the wheel of a rented yellow Lamborghini when police apprehended him at Pine Tree Drive and 26 Street on suspicion of drag racing. Police said that the singer's hangers-on had blocked off the intersection to set up a drag strip for the fast-living showman.'
The Miami Beach Police Chief, Raymond Martinez disclosed that officers had a tough time apprehending the group as, 'when the cars are going that fast, it takes awhile to catch up' but according to NY Daily News, a second car was pulled over directly in front of the Canadian pop star which forced him to stop!
Reports say Bieber was taken into custody at 4:30 am [10:30 am NIG Time] and he flunked a field sobriety test. Police Chief, Martinez also confirmed to press that the singer didn't have a valid driver's license and was suspected to have been under the influence of drugs. Insiders say, the Baby singer unleashed a barrage of F-words when he was detained and also told officers that he had a beer, was under the influence of anti-depressants and had been smoking marijuana all day, according to the Daily News.
&
Bieber has been taken to Dade County's main jail where he will be booked.