Lawyers protest in P'Harcourt, demand appointment of CJ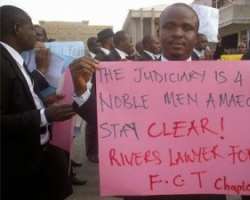 Scores of lawyers on Thursday embarked on a protest in Port Harcourt, Rivers State, over the failure of the State Governor, Mr. Rotimi Amaechi, to appoint a substantive state Chief Judge in accordance to the law.
The lawyers, who gathered at the main gate of the State High Court under the auspices of the Forum of Concerned Lawyers of The Nigeria Bar Association, Port Harcourt branch, said the absence of a chief judge in the state was affecting court processes.
Worried by the continued absence of a substantive chief judge in the state, the lawyers, who converged on the State High Court premises around 7.20am, chanted solidarity songs against the development.
The angry lawyers displayed placards with inscriptions that read: 'APC or PDP not our concern; Amaechi, appoint a chief judge'; 'Even in the military, there was chief judge'; 'Rivers State Govt, don't play politics with the appointment of a chief judge'; 'Judiciary not for sale', and 'Amaechi, remember the rule of law brought you to power'.
Addressing the protesters, the Chief Coordinator of the Forum, Reverend Chris Itamunoala, said the absence of a substantive state chief judge in Rivers had made the annual reprieve granted to prisoners by a state chief judge impossible.
Itamunoala also lamented that over 3,800 suspects in Port Harcourt Prison were still awaiting trial due to the absence of a chief judge that would assign cases to lawyers.
But the Chairman of the Nigeria Bar Association, Mr. Lawrence Oko-Jaja, dissociated the association from the protest embarked upon by the Forum of Concerned Lawyers in Port Harcourt. Punch