Re: Orji's "Wave Of Endorsements"—Abia Concerned Youths Assembly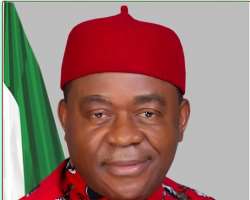 Human beings no doubt have inalienable rights, one of which is freedom of speech. However, these rights are not absolute as it comes with limitations, especially where the rights of others are involved. That is to say that a man's right to swing his arms for instance stops where another man's face is. Therefore, in exercising one's rights, he/she must be careful to ensure that other people's rights are not trampled upon.
In Nigeria today, the present democratic dispensation has given Nigerians the opportunity to exercise their rights, especially the freedom of speech which was infringed during military regimes. However, the manner and way some Nigerians have gone about the exercise of their freedom of speech is becoming worrisome. Nowadays blackmail, distortion of facts, and blatant lies has become the order of the day, all with the intent of misleading the public and causing public nuisance.
It is in view of the foregoing that we find the publication on page 14 of Thisday Newspaper, Tuesday 7th January edition by Chuks Akamadu titled "Orji's Wave of Endorsement" most disturbing and misinforming. Ordinarily, we would not have bothered to dignify him with a response but since it has become a norm in this clime that an unreplied lie assumes the status of truth, we are compelled to reply his shameful vituperation in order to set the facts straight. His assertion that Governor Orji is desperate about the 2015 senate ambition and is also an electoral liability is as annoying as it is totally false.
As a lawyer which he claims to be, (although records show that he was neither a student of Unilag where he claims to have studied law nor had he attended law school) one expects Chuks Akamadu to be conversant with the saying that he who goes to equity must go with clean hands. While we do not intend to make this a personal attack, we cannot help reminding Chuks that a man of his ilk lacks the moral capacity to evaluate His Excellency, Governor Theodore Orji as his immoral acts have become visible to the blind and loud enough to the deaf.
In Abia State and beyond, the name Chuks Akamadu is synonymous with manwhore. It has become so bad that at the sight or mention of Chuks, rich widows and well to do women scamper for safety lest their wealth gets plundered. From beer parlour to conference rooms, the story of his sexcapades with a senator as well as the mother of a former Governor characterises discussions and has made him a laughing stock within social circles. The most shameful aspect of it is that upon searching the name "Chuks Akamadu" in Google, all you see is webpages detailing his sexcapades. It is therefore a misnomer for someone who cannot even conduct his personal life properly to attempt to educate His Excellency on leadership.
Akamadu's allegation that Gov. Theodore Orji's senatorial ambition is a desperate attempt to seek legislative shelter in the national assembly in order to escape EFCC prosecution is indeed preposterous and laughable. For the umpteenth time, may we remind him that Gov. Orji's incarceration was politically motivated by the high and mighty by then in an effort to thwart his ambition. But glory to God, he was vindicated. It is public knowledge that a Senator of the Federal Republic has no immunity from prosecution for offences. If immunity from prosecution is Gov. Orji's desire, then the National Assembly would not have been his destination. So how then could he seek legislative shelter in the National Assembly when he was never guilty in the first place?
Consequently, the T. A. Orji for Senate project is a response to the call by the people for higher service. The people of Abia Central are asking the Governor to join the senatorial race because of their conviction that the state has never had it so good considering the infrastructural development the state has witnessed from 2007 till date. Akamadu should also know that in the protocol list, the Senate is higher than Governorship hence his statement that going to senate is a demotion for Gov. Orji is totally baseless. Even if it were to be a demotion, T. A. Orji would not mind as he is determined to pay any price in order to deliver effective leadership to the people.
In the seven years of the Theodore Orji administration so far, Abia state has witnessed unprecedented development. The various landmark projects which dot the Abia landscape are evidences of wishful thinking and good governance. The socio-economic level of Abia has improved tremendously as a result of people-oriented policies. The state finance has never been judiciously utilised the way this administration has done. Abia debt profile has reduced effectively as shown by Central Bank records. Governor Orji has utilised the state's mean resources and has not led the state into debt. Abia state is one the few debt-free states in the federation. This is as a result of the judicious use of funds by the Orji led administration.
Sometime ago, Abia state before used to be a den for kidnappers and ritualists. Businesses were crippled, people fled, while others that could stay lived in fear of their lives. When we look back at that ugly past, we have Governor Orji to thank because under his watch, normalcy has returned to the state which has culminated in the recent lifting of the travel ban earlier imposed on the state by the United States Government prohibiting its citizens to visit. Today, not only Americans but other foreign nationals are currently in the state partnering with government to achieve common goals. A case in point is the signing of an MOU with the State Government by Honeywell group. Very soon, cement plants and other industries will be running in Abia and this will no doubt improve our local economy. Indeed, Abia has become the destination point for investment. Thanks to Governor Orji for providing the enabling environment.
When we check the profile of Abians that have affected the lives of the youths positively, Chuks Akamadu's name is nowhere to be found. Rather, people like Engr. Chinedu Orji hold sway. It is therefore out of envy that Chuks Akamadu described Engr. Chinedu Orji as ubiquitous. This is also laughable because in terms of youth empowerment, Akamadu can never be compared to Chinedu Orji. We challenge Chuks Akamadu to point at a single contribution of his to the development of Abia State. Rather, he is decay and a bad influence on the youths. All he does is float one Greater Abia Central Movement: a phoney project which he uses to deceive ignorant Abians and makes misleading publications on national dailies. He stays in the comfort of hotel rooms in Abuja to criticise without being on ground to see the exceptional achievements of His Excellency. What a pity!!!
However, Akamadu exhibited a level of sanity when he acknowledged that His Excellency liberated the state from the vice grip of the former governor and his mother. This shows that once in a while, he thinks rationally. We therefore encourage him to channel his rational abilities into fruitful ventures for his personal benefit and that of his family.
Today Abia state is witnessing peace and tranquillity among the diverse Abia populace, this has hardly been seen before, because politicians of different party blocs seem to have found a common platform on which to ventilate their ideas in a progressive format. This has engendered unity of purpose. After all, has it not been said time without number, that peace and unity remain the strong pillars of social equilibrium and human advancement? Having created the strong base for enhanced social cohesion among Abians, the Governor T. A. Orji's administration has equally concretized human capital developments through various skill acquisition programmes for Abia youths. These are positive growth indices which should be applauded and sustained.
We in the Abia Concerned Youths Assembly remain patriotic and committed to our cause, which is to seek the development of our dear state. Thererfore, we will continually resist attempts by the likes of Chuks Akamadu to create bad blood and mislead the people.
In summary, January 7th article of Thisday Newspaper lacks merit and connotes the view of an attention seeker whose aim is to act as if he has the interest of Abia central at heart. We therefore urge His Excellency, Governor T. A. Orji and all Abians to discountenance it.

Emeka Anya
Chairman