Rivers youths threaten to shutdown PH airport, oil wells to halt redeployment of Police CP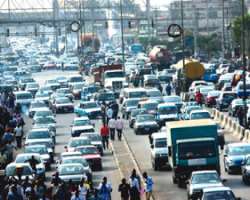 Thousands of youths from the four local government areas of Rivers State that make up Ikwerre Ethnic Nationality, on Tuesday, threatened to shut down the Port Harcourt International Airport, if the state Commissioner of Police, Mr. Joseph Mbu, was redeployed to another state.
The protesters, who carried placards and sang songs of praises for the CP, had blocked a portion of the busy Port Harcourt-Aba-Enugu road for an hour.
The youths also warned that they would not hesitate to shut down other entry points to the state from Ikwerre, oil wells and flow stations within the four local government areas.
While travellers going to Aba, Enugu and Umuahia were stranded for an hour as a result of the heavy traffic build-up, others coming into Port Harcourt could not get to their destination as a result of the huge crowd on the expressway.
Some of the protesters' placards read, 'With Mbu, no more political assassination'; 'Ikwerre disowns Amaechi'; 'IG, they will kill us all if you transfer Mbu'; 'No CP Mbu, no International Airport'; 'Mbu is needed in Rivers more than ever' and 'Jonathan government is the best'.
The four local government areas that make up the Ikwerre Ethnic Nationality are Port Harcourt, Emohua, Obio/Akpor and Ikwerre.
Addressing the crowd during the demonstration, the spokesman for Ikwerre Peoples Assembly, Mr. Chima Boms, said the state police commissioner had performed well and deserved commendation.
Boms said, 'Consequently, the Ikwerre Peoples Assembly will resist any attempt to redeploy Mbu as the Rivers State Commissioner of Police, as such move will take us back to the dark era.
'Any redeployment of CP Mbu at this time will be asking for the total shutdown of all entry points to Rivers State, including the (Port Harcourt) International Airport, which the Ikwerre people play host to, and all oil wells, flow stations and other facilities in our land.'
Boms said that Amaechi, prior to Mbu's assumption of duty as the state police commissioner, arrested those with contrary views to that of his government. - Punch.