Jonathan seeks NASS approval to increase proceeds from Diaspora Bond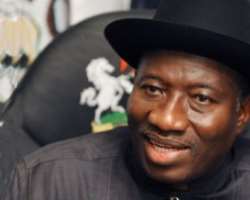 President Goodluck Jonathan is seeking the National Assembly's approval to increase the amount to be raised through the Diaspora Bond from 100 million dollars to a maximum of 300 million dollars.
The request is contained in a letter the president sent to the Senate President, Sen. David Mark, upon resumption of the Senate from its Christmas recess.
The letter said the 100 million dollars Diaspora Bond was part of the nine billion dollars approved by the National Assembly in the 2012-2014 Medium Term External Borrowing Plan.
The bond, which is to be issued in the International Capital Market (ICM), is to enable the government to raise funds from Nigerians in the Diaspora to finance development projects in priority sectors of the economy.
The president said that the request for an increment was premised on the high level of interests in the Diaspora Bond and an indication that the 100 million dollars would be inadequate.
"The process for the issuance of the bond has commenced with the advertisement of requests for proposals for transaction parties for the offering.
"From engagements with Nigerians in Diaspora and the enquiries received since the publication of the requests for proposal, there is a high level of interest in the Diaspora Bond.
"There is an indication that the 100 million dollars could be inadequate, relative to the demand expected from investors for the bond," the president wrote.
He enumerated the advantages of the increment to include that allotments would be made to more Nigerians in Diaspora than would have been possible with a lower amount.
"This will provide an opportunity for them (the Nigerians) to participate in the development of the country while earning returns on their investments.
"The issuance of a lower amount could result in the rejection of subscriptions, which would be a disappointment for Nigerians in Diaspora after heeding the call to support the growth of their country," Jonathan said.
He said that in addition, it would provide the opportunity to invest the funds raised from the bond in a project with a higher value, which would have a greater impact on the economy.
The president also noted that the cost of issuance as a percentage of the funds raised would be much lower since some cost would be the same regardless of the issued amount.
He further requested for a resolution of the National Assembly evidencing the approval, saying it would be required by the operators and regulators in ICM as part of due diligence process.
According to him, this is in line with section 21(1) of the Debt Management Office Establishment Act 2003.
"No external loan shall be approved or obtained by the minister unless its terms and conditions shall have been laid before the National Assembly and approved by its resolution," the president said.
He expressed confidence that the request would be granted on time.