Agitation for Northern presidency not in the interest of masses, says Kukah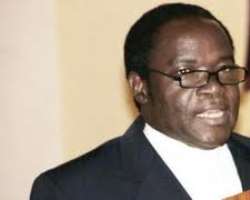 Catholic Bishop of Sokoto Diocese, Bishop Mathew Hassan Kuka, has said the agitation by the elite for the return of power to the North and whether President Goodluck Jonathan should contest in 2015 or not, is not about the ordinary masses.
According to the erudite Bishop, the agitations are driven largely by politicians seeking for positions and allocation of resources. Kukah, who spoke during an interactive session with journalists in Sokoto, said Nigerians ought to be wary of selfish politicians who would want to use religion to divide the people for political gains.
Kukah maintained that the agitation for the presidency between the elite in the North and South was not about moving the country to greater heights but about politicians struggling to reposition themselves ahead of 2015.
He said that both those for and against Jonathan continuing in office in 2015 were not doing it in the interest of the nation but repositioning themselves for political gains and patronage. He said, "The truth of the matter is that all the grandstanding whether the president should come from the North or the South or whether Jonathan should go or whether he should stay is all about personal interest.
"At the end of the day, a lot of quarrel between politicians is about selfishness and how they allocate their resources. It is quite possible that people that are in APC now will go back to PDP and people in PDP will probably cross over to APC, it depends on where food is easy to get.
"So, the most important thing for Nigerians is to be able to discern who really represents what our aspirations are. And for those of us that are spectators, it is important to learn not to cry more than the bereaved because at the end of the day, the politicians will settle their differences," he said.
He said that the ordinary citizens were not getting good value for governance because of corruption. The cleric emphasised that Nigerians were in dire need of better living conditions, education for their children, security, improved welfare as well as jobs for the youths.
He decried that politicians had continued to use religion and ethnicity to divide Nigerians rather than working hard to improve the living conditions of the people.
Kukah noted that politicians would always appeal to ethnicity, religion and region to gain attention, adding that it was the responsibility of Nigerians to be conscious and be able to see beyond the grandstanding and such divisive tendencies.
"The issues of religion and regionalism continues to pulls us back from the sense of nationhood. I think nations are united not by constitutions or political declarations but what unite nations are largely infrastructure.
"Thus, the day Nigerians can move from Sokoto to Aba on a descent railway line and road in a less threatening environment, the day Nigerians will take electricity for granted, I can assure you that such divisive tendencies by politicians will stop," he stressed.
He averred that there was no problem between Muslims and Christians in the country but bad individuals are using religion to cause chaos and anarchy in the polity for selfish interest.
"In my 30 years of personal research and reflections on the issues of religion and politics in Nigeria, I keep on saying we don't have any problem between Christians and Muslims.
"There is a difference between Christians and Christianity, the same way there is a difference between Muslims and Islam.
There are bad Muslims and bad Christians and that is the result of us as human beings struggling to follow the word of God which is not an easy thing," he added.
He cautioned clerics against making unguarded statements capable of instigating violence in the polity but should endeavour to preach peace at all times.
Kukah commended President Jonathan for signing the anti-gay law, saying same-sex marriage was alien to the culture of Nigerians.