Kalu And The Call For Obasanjo's Arrest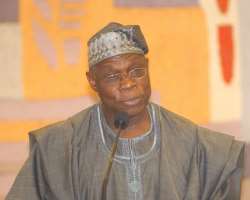 It was credited to Chief Obafemi Awolowo as having said that since independence, our governments have been a matter of few holding the cow for the strongest and most cunning to milk, under those circumstances everybody runs over everybody to make good at the expense of others.... This is why the call by Dr. Orji Uzor Kalu that Olusegun Obasanjo should be arrested may not be out of place.
Corruption in the country is taking to a way of life among many citizens. Values and virtues are no longer respected and acted upon. Pillaging of public resources for self-aggrandizement has become a phenomenon. Nigeria has always scored above 100 aggregate in the Transparency International's corruption index. Creativity has been pummeled to the soil, with all eyes on petrodollar and government's allocations. There is little to show for the many trillions of naira that are yearly budgeted for projects, keeping an average citizen to be feeding from hand to mouth.
First time in the history of Nigeria that a sitting president held the position of Minister of Petroleum for many years; Obasanjo did not give account of his stewardship in this stead. Many billions of money meant for power during Obasanjo's regime went spiral. Rather than account to Nigerians how he ran the Ministry, he was busy causing ethnic revolutions and chasing his perceived political foes around the world.
Kalu was one politician who lost a lot of his personal businesses during the reign of the Owu-generalissimo and was tormented by Obasanjo for the single reason that he was opposed to Obasanjo's Third Term Agenda. Obasanjo used the Economic and Financial Crimes Commission, EFCC, and the Independent Corrupt Practices and Other Related Offences Commission (ICPC) to hound Kalu and many Nigerians for his egotistical curiosity. Nigeria recorded the highest rate of politically motivated killings during Obasanjo's 1999-2007 reigns.
Obasanjo has been accused severally of robbing the country of over $900 billion and N1.4 trillion. Obasanjo nearly sold all the country's enterprises for the nickname of privatisation. Obasanjo spanned Nigerians who did not want the sales of the enterprises saying that they were not yielding to the country's income. Another reason given by Obasanjo for selling those enterprises was that it would ease the government the problem of running dead companies.
The call by Kalu to arrest Obasanjo may be imperative owing to the fact that Nigeria started collapsing during his reign, because his administration showed its ineptitude to manage Nigeria, therefore he nearly sold all that Nigeria had. A former Permanent Secretary, Ministry of Finance and Managing Director of Nigerian Industrial Development Bank (NIDB), Alhaji Abubakar Abdulkadir, had said in an interview with Sunday Trust that the privatization initiated by the General Ibrahim Babangida administration was derailed by Obasanjo's administration.
Words that were credited to Abdulkadir are: "Worse of them all is what Obasanjo's administration had led us into. That is privatization. I think that was the worst thing that ever happened to this country. During Babangida's time, we were the people who drew up the privatization programme. We categorized it into three groups: those that will be kept under the finances and control of the government; those to be commercialized; and those that would be out rightly privatized."
So, Nigerians should applaud Kalu for saying that Obasanjo is in charge for the woes Nigeria is suffering today. By history, Obasanjo did not only fail to manage the opportunity he had to transform the country, but led the country as if it was another military government. Obasanjo wanted to be worshiped at all times and anybody like Kalu with divergent views was marked for humiliation or killed. Remember that Kalu once called the world that Obasanjo wanted to kill him.
From the many supposedly atrocities of Obasanjo in the papers, Kalu may be right when he said that Obasanjo boosted corruption in the country. At the Murtala Muhammed International Airport (MMIA), Lagos, Kalu said: "Well, let me tell you, Obasanjo is part of the problems of this country. The earlier he goes back to his farm the better. He caused all the problems that we are going through. He was worse than Jonathan and any other president of this country.... In 1999 when he was elected as president, instead of giving leadership, he went to fight political war. The goodwill this country had, he squandered it, and this is what we are suffering from today because if he had given qualitative leadership without pursuing political enemies, we would have grown."
As Kalu has said, Obasanjo needs to be arrested and tried for his infamous roles in government. El-Rufa'i, former FCT minister and BPE boss, once told lawmakers that Obasanjo made nonsense of the privatisation plan, because he kept interfering in the activities of the agency. He also accused Obasanjo of blocking the privatisation of Nigeria Airways. And the story today is that the company is dead, 2000 jobs have been lost.
All, hail Kalu for always speaking out!
Odimegwu Onwumere, a Poet/Writer, writes from Rivers State.
Tel: +2348057778358
Email: [email protected]
www.odimegwuonwumere.wordpress.com
Disclaimer:

"The views/contents expressed in this article are the sole responsibility of the author(s) and do not necessarily reflect those of The Nigerian Voice. The Nigerian Voice will not be responsible or liable for any inaccurate or incorrect statements contained in this article."
Articles by Odimegwu Onwumere