TB JOSHUA SAVED MY CAREER - Emeneogu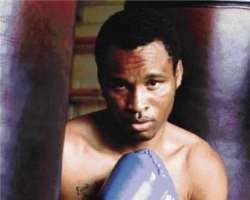 Reigning Pan Asian Boxing association (PABA) champion, King Davidson Emeneogu, has said his success in is recent title fight belongs to God and Prophet TB Joshua of The Synagogue, Church Of All Nations (SCOAN), Ikotun, Lagos.
Emeneogu, who was at the church last Sunday to give testimony and thanksgiving over his recent success, said he had a series of setback each time he had a major fight.
According to him, whenever he was scheduled to fight, he would sustain an injury that would force him to withdraw. These recurrent injuries forced his promoters to write him off, and also cast a great pall of doubt on his career. Emeneogu became frustrated at a point. This was his situation until he came to SCOAN to seek the assistance of the Man of God.
His encounter with SCOAN, he pointed out, began when he listened to a prayer on SCOAN TV after which, he decided to pay a visit to the church.
Soon after, he continued, he got a call from his manager informing him of a scheduled fight within thee weeks. By this time he said, he was still on holiday in Nigeria and felt it would be proper to see Prophet TB Joshua over this. He got a firm assurance from him that he would be victorious in the fight and even assisted him with some cash.
Emeneogu said his victory is a confirmation that God answers prayers he further said what he got from SCOAN cannot be quantified in monetary terms. The fight was his first professional fight which he had only two weeks to prepare for. And back in Australia, his trainer was worried that he could easily be defeated, but he assured him that he had the support of God. Emeneogu claimed that the use of anointed water from SCOAN, energized him, so much that in the 12 round fight, he was never tired unlike before when he used to lose steam in just round 7.
On his part, Prophet TB Joshua said when Emeneogu came to him, he foresaw a fight and decided to pray for him to win the fight. He pointed out that his prophetic vision also gave him the privilege to see his financial stress which prompted him to assist him with $2,000 dollars.
Joshua promised that henceforth, he had taken him as his personal responsibility and will always pray for him to move from his current world ranking of number four to number one. That is the world champion.
Joshua further explained that one other factor that guaranteed victory for Emeneogu, was his personal faith in God and the veracity of prayers. He revealed that he asked the boxer to call him 30 minutes to the fight which he did. When he called, Prophet Joshua simply asked him to pray and he (Joshua) would seal it with Amen.
This he did, and is a demonstration of his faith.

Source: Sporting Champiion,
Friday March 12-18 2010.
Vol. 19, No.11