Defected National Assembly Members Should Resign, says Senator Ameh Ebute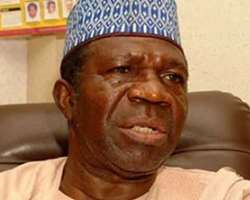 A former Senate President and Pro- Chancellor of the National Open University of Nigeria (NOUN), Senator Ameh Ebute, has said it is constitutionally and morally wrong for for those who defect from the political parties under which they were elected to cling to their legislative posts.
Ameh therefore called on the defecting members of the House of Representatives, who left the Peoples Democratic Party (PDP) for the All Progressives Congress (APC) to immediately resign their membership of the House.
In his his own view, it is not only that the constitution does not support their action but it is equally morally wrong for them to continue to draw salaries and allowances when they have ceased to be members of the National Assembly following their actions.
"These members defected thinking their action will leave President Jonathan vulnerable and weakened as part of their plans to stop him from contesting the 2015 election,' he said, ' but as it is, the party is finding its feet following the president disposition to dialogue with stakeholders to find solution to some of the crises in the party which is not alien to the PDP alone." Ameh said the APC they defected was already embroiled in crises in almost all the states and wondered if the defecting members would be seeking to defect to yet another party soon.
According to him,  in 1983 when he left the National Party of Nigeria (NPN) for the Nigerian Peoples Party (NPP), he had to resign his position at the senate to contest under the NPP.
He wondered whether the present crop of defecting members want to eat their cakes and have it back.
Ebute called on Nigerians to pray and support the President Jonathan's administration to continue the remarkable work it is doing for the benefit of the people while acknowledging that the president is constitutionally right to contest the 2015 presidential election. "Since he has only contested for the presidential seat once, he is entitled to another term,' he said.