KIDNEY COSTS ARE KILLING PATIENTS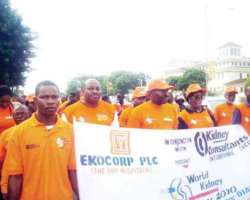 Kidney costs are killing patients
By Abiose Adelaja
March 12, 2010 03:58AM
Government health officials should pay attention to the lack of adequate kidney healthcare in the country, nephrologists and kidney health enthusiasts said on the occasion of World Kidney Day, yesterday.
An estimated 15,000 new cases of kidney diseases occur every year in the country, according to Ebun Bamgboye, a Consultant Nephrologist at the St. Nicholas Hospital, yet only 10 per cent of those who have the disease can afford treatment.
'It is a serious problem in Nigeria, and the government is not really doing much for kidney care,' Dr. Bamgboye said. 'Although the Lagos State government is sponsoring transplant, there are thousands who die because they cannot afford even dialysis.'
When the kidney, a vital organ, responsible for the removal of waste products from the body amongst other functions, fails, the person would require a dialysis, an artificial process of getting rid of the wastes.
Adebayo Sokunbi, a kidney health enthusiast, said it costs N75,000 every week to have a dialysis – that is over half a million in a month.
'The situation in Nigeria is terrible because it is expensive and these patients have to pay out-of-pocket. Only about 10 per cent of patients who need this can afford to pay. And so we have very high mortality from kidney diseases.'
He lamented a lack of support for kidney patients and a lack of enough centres to take care of them.
Early screening
Experts say kidney disease is a silent killer because people go about without showing any symptoms. The three commonest cause of kidney failure in Nigeria: hypertension, diabetes, and inflammation of the kidney units (glomerulonephritis), are also silent. Therefore, early screening of these diseases is a step to prevention.
'If people can be screened early for hypertension and diabetes as Lagos State government is doing state-wide now, it will go a very long way to catch it early and correct an end stage kidney failure,' Mr. Sokunbi stated.
An estimated 25 percent Nigerians suffer from hypertension, while 4 percent of the population are diabetic. They advise that if people can be screened from time to time and are referred immediately to nephrologists, it will significantly reduce healthcare cost and marked reduction in mortality.
Shortage of kidney healthcare
Experts are asking government to increase more kidney treatment centres or subsidise the cost of care. The few government centres where kidney can be treated are Gbagada General Hospital, Lagos; Lagos University Teaching Hospital; Obafemi Awolowo University Teaching Hospital;
St. Nicholas Hospital, where a kidney transplant was done and few other private centres.