CHAN: Nigeria loses 2-1 to Mali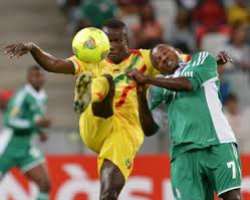 Mali's Eagles stunned their Nigerian counterparts, Super Eagles 2-1 at the African Nations Championship (Chan) in South Africa which kicked off on Saturday at the Cape Town Stadium.
Dangerman, Abduloulaye Sissoko powered a clinical shot which brushed off Super Eagles defender, Azubuike Egwuekwe to beat displaced goalkeeper, Chigozie Agbim for the opening goal in the 18th minute.
The Malians, who were clearly dominant in the first half, almost doubled the lead two minutes but Lassana Diarra failed to connect the ball into an open net.
The Nigerians struggled to come into the game but found rugged and hard tackling Malians too tough to handle.
While Agbim was called out severally to keep out Mali's dangerous incursions his counterpart, Soumaila Diakita was never troubled as the West Africans headed into the half time break with their precious lone goal lead.
Mali stepped up the pressure into the Nigerian vital area at the resumption of play and was rewarded as Adama Traore's grounder squeezed through underneath of Agbim and into the net for Mali's second goal in the 50th minute.
Nigeria head coach, Stephen Keshi response to Malian onslaughts was two quick substitutions in the 50th and 53rd minutes as he pulled out the duo of Abubakar Ali and Ikenna Hilary for Gbolahan Salami and Abdullahi Shehu.
Salami's introduction paid off almost immediately as his powerful header proved too strong for Malian goalkeeper to hand Nigeria a goal in the 55th minute.
Salami's goal brought urgency in the Nigerian front men for the equaliser but the Malians were unyielding as Agbim was further subjected to some anxious moment by Sissoko and Diarra.
The 3SC goal poacher continued to threaten the Malians effortlessly but it was Diarra who turned out to be the tormentor-in-chief of the Nigerian side.
Nigeria will have to fight themselves back into the championship on Wednesday when the confront Mozambique at the Cape Town Stadium while hosts and group leaders, South Africa will try to fence off the challenge from Mali.
Anything short of victory against Mozambique will signal the end of the road for Nigeria in the biennial football showpiece in their debut as the last group game against hosts, South Africa will be inconsequential.
© supersport.com