Tukur replies Obasanjo, begs him not to leave PDP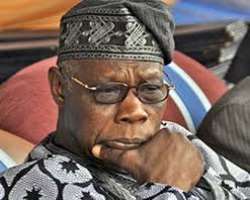 The Chairman of Peoples Democratic Party (PDP), Alhaji Bamanga Tukur, has pleaded with former President Olusegun Obasanjo not to leave the party.
Tukur, in his response to Obasanjo's January 7, 2014 letter to the party leadership, assured Obasanjo that the party would conduct fresh elections in the South West zone.
Obasanjo had in his letter addressed specifically to the chairman of the party, Tukur, had said he was withdrawing from the party because he would no longer 'subscribe to a wanted habitual criminal (referring to Kashamu) being installed as my zonal leader in the party.' Kashamu has referred to the former president as being 'hypocritical.'
Tukur told the former President in his reply that the PDP needed him at this moment, in view of the governorship elections coming in Ekiti and Osun States this year and the subsequent general election next year.
He said that Buruji Kashamu came to limelight in the affairs of the party because of failure of leadership structure in the South West.
The letter said; 'I thank you for your gesture and I pray that we shall continue to dialogue and partner together to move our party forward, particularly for success in the governorship elections coming up this year in Ekiti and Osun states and subsequent election in 2015 to cover the lost grounds.
'When we came in, we were threatened with contempt of court for not obeying court orders to dissolve and remove the existing executive. We complied with the court orders because of our belief in the rule of law and to avoid the consequences of disobeying those court orders.'
Tukur assured Obasanjo that PDP was eager to conduct fresh zonal congress as soon as possible to elect zonal executives.
But in his response, Kashamu asked where Obasanjo kept his principles when he used him to take over the party structure in Ogun State from former governor Gbenga Daniel and hosted him (Kashamu) a number of times at his hilltop home, Abeokuta.
Kashamu said: 'He talked about not being able to work with me because of his principles and decency. But the questions Nigerians should ask him are: where were these principles when he used me to fight Gbenga Daniel? Where was his self-righteousness when I took the party structure from Daniel and handed it to Obasanjo? Where was his decency when he brought Gen. Adetunji Olurin to me and asked that I should roll my structure behind his governorship ambition? Where was his morality when he introduced me to South West PDP leaders, like Engr. Segun Oni, Navy Capt. Caleb Olubolade (rtd) and a host of others? Where was his discipline when he hosted me severally in his Hilltop mansion, taking me into his bedroom and innermost recesses? Where was his decency when he accepted donations from me to his church and other concerns? Where was his gumption, when he mounted the rostrum to sing my praises, praying for me as he did in May 2010 during a reception for the former Minister of Commerce and Industry, Senator Jubril Martins-Kuye?'
Obasanjo in his letter had written: 'I believe that on no account should a known habitual criminal that is wanted abroad to face criminal charges levelled against him be extolled as a political leader in a respectable and wholesome nation-building political party.
'Buruji Kashamu has been so extolled in PDP in the South-West geo-political zone, which I personally find unsavoury. Politics played by any national political party must have morality, decency, discipline, principles and leadership examples as cardinal practices of the party.'
Kashamu denied that he is the leader of the party in the South West, but rather one of the party's foot soldiers in the zone and that it was in that capacity that he was made its Chairman Organisation and Mobilisation Committee in the zone.
According to him, 'It is indeed preposterous for anyone to call me the leader of the party in a zone that parades political juggernauts like Chief Olabode George, Alhaji Shuaibu Oyedokun, Senator Lekan Balogun, Senator Iyiola Omisore, Senator Teslim Folarin, Alhaji Yekeen Adeojo, Senator Clement Awoyelu, Mr. Ayodele Fayose, Senator Bode Olajumoke and a host of others.'
Meanwhile, leaders of the PDP in the Southwest yesterday gathered in Ibadan, the Oyo State capital to chart a way forward for the party.
During the meeting, which held at the Idi Ishin residence of former Justice Minister and Attorney General of the Federation, Chief Richard Akinjide, the leaders appealed to all feuding parties to sheathe their swords and fashion out ways to move the party forward in the zone.
In attendance were Chief Richard Akinjide; his daughter, Jumoke Akinjide, who is the Minister of State, FCT; Chief Abiola Ogundokun; Prof. Tunde Adeniran; Dr. Saka Balogun; and others.
Akinjide, in his address, appealed to all feuding parties to sheath their swords so that peace could reign in the party and the nation.
He said, 'In Nigerian politics, Yoruba is a zone to reckon with. Why are we taking arms against one another? What exactly is happening to us? If we call ourselves leaders, should we then be found in a demeaning position?
'We all heard what former President Olusegun Obasanjo said. If you read the newspapers today (yesterday), he made some important comments. In essence, he is in support of the meeting we are doing here. If anybody says, 'don't come to this meeting', disregard him. Don't trust those people.'
He explained why some of the other factions were not present. According to him, invitations would be extended to others in subsequent meetings.
Reading the communiqué issued at the meeting, former Education Minister, Prof. Tunde Adeniran, stressed the need to reposition the national working committee of the party for greater effectiveness and impressive performance, in order to ensure victory for the party in the Southwest.