UGANDAN OPPOSITION HQTRS BESIEGED AS MAYOR AND MP ARE ARRESTED BY POLICE Abubakar Sematimba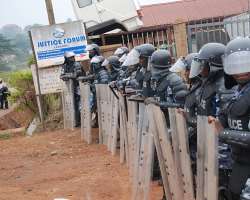 Ugandan opposition leaders including former FDC president Dr Kiiza Besigye, Kampala Lord Mayor Erias Lukwago and Rubaga North MP Moses Kasibante have been detained by Ugandan police as they proceeded for a planned public meeting. The leaders were due to address a gathering at a private compound of a counter opposition party, the Justice Forum (JEEMA) in Mengo, Kampala. One teenager in down town Kampala had his leg fractured as a teargas canister detonated on him and one woman collapsed after inhaling excessive teargas in the fracas near JEEMA offices.
JEEMA as the party is affectionately known offered its headquarters facility to parliamentarian Kasibante to address his constituents while parliament remains in recess since the festive season. The MP invited a number of politicians including the embattled Lord Mayor, who the Museveni administration considers a potential internal threat to its 28-year long hold on power.
Asuman Basalirwa, the JEEMA president who is a certified lawyer spent the best of the day at Kampala Central Police Station (CPS) trying to intercede for the detained leaders.
"We offered this facility after recognizing that the regime has virtually closed out all spaces for freedom of expression and association. These private spaces were the only remaining alternatives for people to freely express themselves but have today been invaded," said Swaib Nsereko, the JEEMA spokesman.
Last year Museveni hurriedly assented to the widely condemned Public Order Management Act (POMA), which requires any group of three people to first seek permission of the police before holding any meeting.
Acting on orders of the Inspector General of Police (IGP), Gen. Kale Kaihura, police besieged JEEMA headquarters from midnight to stop opposition supports from accessing it.
Kampala Lord Mayor, Lukwago was impeached from office by a government-inspired meeting of councilors allegedly for incompetence. Whereas the country's judiciary overturned the impeachment process, saying it was illegal, since a court injunction had stopped it, the government maintains that Lukwago is no longer a valid Lord Mayor.
In what has turned an 'Attorney General v Judiciary affair,' the police are contending that going by the former's advise, Mr Peter Nyombia Lukwago is no longer a Lord Mayor.
"The planned rally is, therefore, illegal," wrote Police spokesperson Judith Nabakooba in a letter stopping the meeting.
JEEMA, with just one MP in the current parliament, is one of the strongly emerging political organizations in Uganda expected to send more MPs in the next parliament. Its incumbent legislator, Haji Hussein Kyanjo is widely admired across the country and many young politicians in his party are his mentees, equally eloquent and highly educated.
The party is currently attracting seasoned and high profiled politicians hoping to benefit from its popular record focused leadership in the 2016 general elections.
According to reliable information, the meeting was supposed to be held today Thursday the 9th of 2014 at 10:00am; however Police invaded the residential homes of the opposition leaders before they could go out.
Those leaders who managed to escape from captivity like Col Besigye, Kasibante and the Lord Mayor Lukwago, where pursued, arrested and languishing in police cells, some in unknown places waiting their fate.