Aganga, Ngama join race for CBN governorship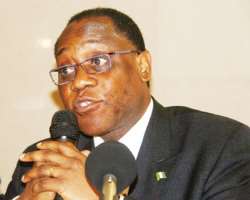 Serving Minister of Industry, Trade and Investment, Mr. Olusegun Aganga, and the Minister of State for Finance, Dr. Yerima Ngama, have joined the list of contenders for the job of Governor of the Central Bank of Nigeria (CBN), a position which will be vacant when Sanusi Lamido steps down possibly in March when he proceeds on terminal leave, according to sources close to the presidency.
THISDAY gathered that both men are being tipped for the job because of their performance in the trade and investment and finance ministries, as well as their respective backgrounds in investment and commercial banking.
Aganga, who has the confidence of President Goodluck Jonathan, is also currently being adjudged as probably the best minister in the trade and industry portfolio in years.
Another thing going for him is the fact that he bestrides the two geopolitical zones of the South-south and South-west, more so as both the South-east and North have successively produced Professor Chukwuma Soludo and Sanusi as central bank governors.
Aganga, though originally from Edo State, was born and bred in Lagos, and represents the state as well as the South-west zone in the Federal Executive Council (FEC).
Ngama, on the other hand, is from Yobe State and would bring to the job extensive experience as a commercial banker and regulator, having worked for many Nigerian banks and the Nigeria Deposit Insurance Corporation (NDIC).
With Aganga and Ngama's emergence for the CBN job, they will be joining the list of other contenders for the high profile post.
THISDAY had in October 2013 exclusively reported that six persons were in line for the job including the Managing Director/Chief Executive Officer, Asset Management Corporation of Nigeria (AMCON), Mr. Mustafa Chike-Obi; the Group Managing Director/Chief Executive Officer, Access Bank Plc, Mr. Aigboje Aig-Imoukhuede; and Managing Director/Chief Executive Officer, First Bank of Nigeria Limited (FBN), Mr. Bisi Onasanya.
Others on the list are the three deputy governors of the CBN who are considered insiders and who share similar views with Sanusi on monetary policies. They are Dr. Kingsley Moghalu, Mr. Tunde Lemo and Dr. Sarah Alade, who analysts say will ensure monetary policy continuity.
However, THISDAY further gathered that Sanusi's departure has created divisions within the CBN as camps loyal to the three deputy governors have emerged.
The internal politicking by the deputy governors, THISDAY was informed by CBN sources, is quite fierce, with each of them reaching out to politicians and friends of the president in their bid to replace Sanusi.
Also, a source in CBN said his early departure, possibly in March, would mean that his successor would be announced much earlier than expected.
Sanusi's tenure is expected to end in June this year, but he would be proceeding on terminal leave by March.
Born Olusegun Olutoyin Aganga in 1955, he was first nominated by Jonathan as Minister of Finance in April 2010. In July 2011, Aganga was redeployed by the president to the Ministry of Trade and Investment, to make way for Ngozi Okonjo-Iweala to return as the Minister of Finance.
He was educated at the University of Ibadan, Nigeria where he obtained a B.Sc Degree in Biological Sciences in 1977 and the University of Oxford, United Kingdom, where he obtained a degree in Theology in 2000 just like the outgoing governor who has a diploma in Islamic studies. He is also a Chartered Accountant.
Aganga previously worked in Arthur Young in Nigeria, Ernst & Young in London UK, and Goldman Sachs International in London, where he was Managing Director, Hedge Funds.
As finance minister, one of his key accomplishments was the establishment of the Nigerian Sovereign Investment Authority (NSIA), better known as the Sovereign Wealth Fund (SWF).
His only drawback is his not being so well acquainted with the banking industry in Nigeria, which he is also expected to oversee.
Ngama's professional experience, however, covers several banks at top executive management positions ranging from First Bank Nigeria Limited, Diamond Bank Plc and Victory Merchant Bank. He also worked in NDIC where he was the head of Bank Analysis Unit, Off-site Supervision Department.
He was appointed Minister of State for Finance by Jonathan in July 2011.
Born in 1961, Ngama obtained a Bachelor of Science degree in Accountancy from the University of Maiduguri and Masters of Science in Accountancy from the University of Glasgow in Scotland, United Kingdom.
He also obtained a second Masters' degree and Ph.D in Money & Banking and Finance from the University of Birmingham, where he received the coveted Ashley Prize award for producing the best thesis in his faculty.
In addition to his academic qualifications, Ngama has significant training in Islamic Banking and Islamic Capital Market Products.
Whoever emerges Sanusi's eventual successor will be the 11th central bank governor in Nigeria.
As specified in the CBN Act 2007, the central bank governor's principal remit is to provide economic advice to the federal government, while acting as the official banker to the government of the federation.
Apart from signing every currency denomination, the governor among other duties, oversees the country's banking sector. Alongside the Monetary Policy Committee of the CBN, the governor also determines the monetary policies of the country, which have an impact on the financial system and the macro-economy.
THIS DAY