Rochas Okorocha and his Vuvuzela admnistration in Imo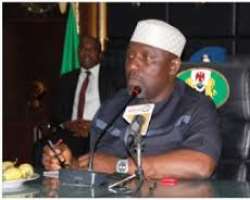 The Lepata Mambu – common ly known now as "Vuvuzela" – is a noisemaking plastic horn which football fans now use to cheer on their team. It is South Africa's contribution to the world of sports, and in many ways is an appropriate metaphor for the self-involved crass called governance in Imo state today under Governor Anayo "Rochas" Okorocha. One of the effects of the vuvuzela, aside from making loud noises, is that it can also cause a loss of hearing. Rochas Okorocha's use of the political vuvuzela – what the Igbo would call "ndi Otimkpu" – paid, professional noisemakers – has probably caused him loss both of insight and hearing. Imo State is plodding along listlessly under misgovernance.
At the crucial moment during the election that brought in Governor Okorocha, I warned about the man. He was a flash-in-the pan – with his empty and gratuitous populism which had little substance. He came on the guise of "philanthropist," and I warned that enlightened societies do value equality over charity. We did not need the charity of philanthropy in Imo State, what is clearly needed is the spade work that would use the power of the state to stanch poverty, disease, unemployment, and provide equal access to efficient healthcare, well-designed public transportation, well-built and provisioned cities, quality education, and security.
Okorocha had no ideas, and rode on a profound level of disenchantment with the Ohakim administration, using the APGA platform, to arrive to power. It is clear now that Imo electorates have seen evidence of his inabilities to govern and provide 21stcentury leadership to the state. It is shocking to me that such a state with its wide array of intellectual and professional talent, would continue to allow a political bantam weight to preside over its affairs, and stymie its potential, and much less, try to bamboozle the people with what are largely paperweight claims to public service. Now, three situations in the past month have raised more questions about Rochas Okorocha's government in Imo State: one, the contract scandal involving a Lebanese contractor now haunts Okorocha with the EFCC clearing his former Deputy, Jude Agbaso of the malfeasance. EFCC basically throws back the question to Okorocha about the contract, and it is now imperative that the Imo State House of Assembly revisit the premise of its erstwhile action.
The Imo State House of Assembly which has thus far failed the people of Imo State in this dispensation by its frequent complicity with the Executive Arm did act with unusual decisiveness recently when its members refused to listen or debate the budget presentation by Governor Okorocha.
As required by law, to give backing to the Appropriation Act or the spending warrant to the government under a democracy, the legislature must pass that Act into law. Imo legislators have backed away from giving Governor Okorocha any further authority to spend Imo State's money until he accounts for money approved for last year's budget. That is a good thing. Never mind that some of the proposed plans in that budget – things like the billions of Naira budgeted to build a "City Gate" for Owerri – were totally uncalled for, yet the legislators have demanded that the governor show proof of expenditure as approved by the parliament of the state. Governor Rochas Okorocha has yet to account for the monies nor has he yet presented his budget for the current fiscal year. Last week, Dr. Viola Onwuliri, the Minister of Foreign Affairs basically accused Governor Okorocha of misappropriating Imo State's share of Federal appropriations, particularly the Federal grants to the Local government Authorities which the state government manages under a joint account; the Disaster Relief Fund, and the SURE-P allocations: "What we have on ground in the local government areas of the state is not commensurate with the huge funds so far collected from the federation account for nearly three years," Mrs. Onwuliri said quite pointedly. As at writing this column, neither Governor Okorocha nor his office has responded to these assertions.
Even the likes of the outspoken Catholic Archbishop of Owerri, Dr. Anthony Obinna, who had been an early supporter of Okorocha began quite early to distance himself from the administration when it emerged not too long after the elections that Okorocha had very little sustainable ideas about taking Imo State to the next level, or even any close to the level that the legendary Sam Mbakwe left off. No governor thus far has measured up to Mbakwe's effective and forward looking administration. I think it had more to do with Mbakwe's distinct fiber and background: he was established professionally as a successful Lawyer in Aba, and was therefore grounded with the facts of the people's life and aspiration. He was not a Helicopter politician who lived in Abuja, Lagos, Jos or New York and just flew to run as governor. He was a product of the internal negotiations that threw up his candidacy, and he surrounded himself with quality men – the likes of Willie Onyejiaka, Ray Ofoegbu, Alex Emeziem, Dr. Aguocha, and such other sterling characters who could stand shoulder-to- shoulder with him.
Okorocha acts more like a proconsul rather than a servant of the people. I was in Owerri for three months last summer, and it was clear that Okorocha's government was fundamentally out of touch with the aspiration of the Imo people. True, there were some cosmetic touch-ups on the City of Owerri, but they were of poor quality of work. The street lights on Whethral for instance were cheap garden variety lights that had been put there without the level of professional intricacy that attends such public investments.
There was the new Civic Center now being built where once was the Imo Motels, and it is of a disgraceful quality of architectural design and construction. By the Assumpta/Okigwe/ Orlu Road roundabout, an ecumenical center with a very byzantine/Islamic wall design that basically oppressed and offended the sensibility of the Owerri population, and it was all cheap. The most telling of Okorocha's heresies is the destruction and removal of the Owerri City Library, and its replacement with some other structure. This of course is the height of Okorocha's philistinism; his lack of intellectual pedigree, and his inability to understand the significance of City libraries as both cultural markers and abodes of city memory. Generations of the users of that library built under the Eastern Nigerian Library system were the beneficiaries of an enlightened age now darkened by the likes of Rochas Okorocha. He promised free education, and it is all a mirage. His school building constructions are like the rest of his work in Imo State, cheap, paperweight projects. It is important for the Imo State House therefore to move against Governor Okorocha, and compel him to fully account for the use of the Imo public fund, or shut off any further access by this administration to any further use of Imo State's accounts until Imo people vote this governor out of that office. Enough is enough.
Credit:Vanguard