Why we want to ban Tokunboh cars Jonathan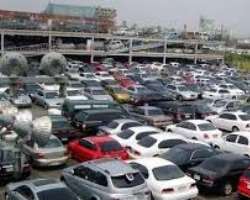 Proposed ban on tokunbo cars not to cause hardship, says Jonathan
President Goodluck Jonathan  on Friday allayed fears over the proposed ban on importation of second-hand vehicles (popularly known as Tokunbo).
Jonathan said that the proposed policy was not intended to compound numerous problems facing Nigerians.
According to him, the primary objective of the new car policy is to create jobs through local assemblage of cars.
The president spoke while receiving a 40 man delegation of the Road Transport Employers Association of Nigeria (RTEAN) led by their president Shehu Musa Isiwele who paid him a courtesy visit.
The president while trying to justify the new policy said that Nigeria currently loses $4 billion annually to importation of cars which could be used to start car assembly and create jobs.
The association presented a centenary card to the President and decorated him with the title of Great Grand Patron of the RTEAN .
In response to some of the issues raised by the association,  the President promised to talk to  the state governors involved in the economic management team to work with the RTEAN to ensure that the country has world class parks across.
The President also directed the SGF to incorporate the union in all programmes in the centenary celebration and promised to ensure they are represented in the boards of relevant agencies and parastatals.
In his earlier speech, the association' president said in a resolve to partner with the Federal Government, the RTEAN planned to create 1.5 million jobs nationwide for young people in the next one year.
He announced that the association had flagged off a special mass transit scheme of 4,000 units of exotic brands of taxis and commercial buses/vehicles.