Elechi makes U-turn on National confab, denies alleged rift with presidency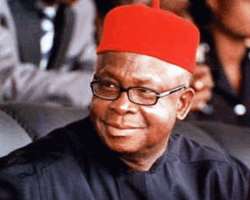 Ebonyi State Governor, Chief Martins Elechi, has denied media reports alleging that he was gainst the proposed National Conference. Elechi who came on a private visit to the Presidential Villa yesterday told State House correspondents that, for one who led his state to the 2005 National Political Reform Conference, it was absurd for anyone to assume he will kick against it now having seen the benefits of the first one.
The governor stressed that both his political party and his Chief Press Secretary have already cleared the air said he won't be distracted by an organised attempt to cause friction between him and the establishment.
He said, "do you believe it? But you read my chief press secretary's reaction to that and you also saw the reaction of the PDP, these are people who know me well and know what I stand. So I am not distracted by such organised attempt by the opposition to bring friction between me and the establishment. They won't succeed we are all for the national conference.
"And for those who don't know, I led my state to the national political reform conference of 2005, I know the benefits accruing from it. Sometimes because of our inability to express ourselves properly, people don't really capture what we say, go about misquoting or are actually mischievous, I can't be against that (national conference)".

He said thst the allegations were the handy work of opposition to pitch him against President Goodluck Jonathan.
Elechi was quoted to have described the national conference while receiving in audience founding fathers of the state during Christmas homage to him in Ikwo, "as a big joke and waste of time. Elechi told journalists that he was on a routine visit to see Mr. President and brief him on issues concerning his state.
"Every governor has to see the president mandatorily from time to time particularly as we are of the same family. When we have issues we have to consult him".