Presidency frowns at Nyako over single tenure pact claim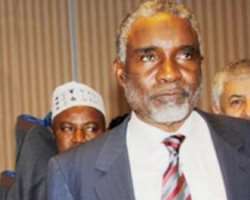 The Presidency on Thursday criticized Governor Murtala Nyako of Adamawa State over his recent claim that  President Goodluck Jonathan signed a document to serve for a single term.
The Special Adviser to the President on Political Matters, Mr. Ahmed Gulak, in an interview  described  Nyako's claim  as a ranting of a man who was dead politically.
But Nyako, through his Director of Press and Public Affairs, Ahmad Sajoh, said  Gulak had  no political life.
The Presidential aide stated that Nyako, who  is one of the five governors that recently defected from the Peoples Democratic Party to the All Progressives Congress,  was a lost sheep who no longer knew  where he belonged  to.
He said apart from the various public statements he had made to clarify that Jonathan  did not sign any one-term pact, the President  had  personally    dealt with the matter extensively.
Gulak  added that he would rather  address fresh issues   than got involved in  a matter that had  been dealt with.
He said, 'We have finished with the issue of the alleged single term agreement long time ago.
'I have talked about it many times and the President himself has come out to speak on it to the effect that there is no such agreement anywhere.
'I prefer we talk about something new. I also prefer we talk with people who are serious.
'Nyako is a lost sheep. He does not know where he is at the moment.
'His statement is nothing but a ranting of a man who is dead politically.'
However, Sajoh  said it was now evident that Gulak lacked values, honour and political relevance.
He  said, 'Gulak never had a political life. It's a pity that it is a person like him  that  is speaking on behalf of the President.
'This man lacks values; he is without honour. Governor Nyako has been upright in his personal and official dealings and he will remain so.'
Nyako had while speaking with journalists in Yola on Tuesday insisted that Jonathan signed  a single tenure agreement.
He had explained that genuine leaders were men of honour who would  be sincere to their colleagues and the society.
The governor had added that a copy of the document  was  in the custody of the Chairman of the Northern Governors' Forum, Governor Babangida Aliyu, of Niger State.
According to Nyako, when the agreement was brought to him to sign before the 2011 elections; he drew the attention of his colleagues to the fact that Jonathan did not pledge his commitment to the rotational Presidency agreement of 2003.
He said, 'The Niger State governor has the agreement. We want to deal with people with honour, not people who want to drag us into civil war because of impunity, because of lawlessness, because of not fulfilling their pledges that will only take us to civil war.
'Leaders must be honest with their colleagues and the greater society.  I have my craw craw (rashes) from the first civil war and if there is a need to develop another craw, craw in another civil war, I will stand by.'
It will be recalled that Aliyu was the one who started the claim that Jonathan signed a one-term pact with the PDP governors ahead of the 2011 presidential election.
In denying it however, the Presidency dared whoever had  a copy of the agreement to produce it.
Nobody has so far taken up the challenge. - Punch.