Anambra Poll: Why Willie Obiano Won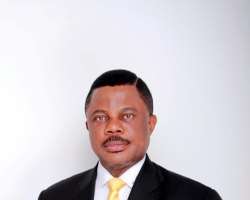 It is almost clear that Senator Chris Ngige, the APC candidate in the recent gubernatorial poll in Anambra State does not have good advisers. If he did, he would not be hopping around, bellyaching and issuing statements about an election in which he saw defeat starring him in the face, long before votes were cast. This submission might seem harsh but it is also true that there were enough signs that Ndi Anambra would not accept an APC governor just as it is true that Senator Ngige is simply an idea whose time has passed in Anambra State. And this is not a difficult conclusion to draw.

It could be argued and rightly so, that as far as the recent Anambra poll is concerned, APGA under the leadership of cerebrally astute Chief Victor Umeh out-thought rival parties on the issue of selecting the right candidate for the race. Any objective analyst can tell that in a free and fair contest, Chief Willie Obiano, with his intimidating credentials, will floor Ifeanyi Ubah of Labour Party and Tony Nwoye of PDP for obvious reasons.
Ngige is a different kettle of fish all together. While the Alor Idemili born Senator may give Obiano a challenge in some respects, Ngige seems a pathetic case that is quite comparable to what inimitable Achebe referred to as "the lizard that ruined its own mother's funeral." The Senator's penchant for a dance in the market square, his monster ego that holds him back from admitting his own failings and his choice of a party platform did him in. In a manner of speaking, if Ndi Anambra ever thought about giving Ngige a chance, he ruined his own case with his predilection for trouble and inability to demonstrate a higher level of grace when in error.
It just might be that Ngige had grown enamoured of the habit of listening to his own voice or believing his own logic, but anyone who had any close association with Anambra State knew that Ngige's presumed popularity in the state was a romanticised mirage. True, there is a certain degree of nostalgia about him among Ndi Anambra but it is just what it is – nostalgia. There's nothing more to it. It is not enough to build a political fortune on. On the other hand, Chief Obiano had a lot going for him in the race. His squeaky clean image, his administrative acumen, his sound educational background and natural born charisma stood him out by the distance. And in a state that prides itself as the Light of the nation, it was obvious that no serious voter would have preferred others to Obiano.
Again, the APGA leadership out-smarted their opponents when they dreamt up the idea of zoning the ticket to Anambra North. The decision was a deft strategy that made rival parties look like upstarts in the political chess-game. Playing on the emotionalism of a presumably marginalized people, APGA built a solid moral case that the opposition could not easily dislodge. Indeed, how do you ignore the fact that in 22 years of the existence of Anambra State, no leader from the sprawling Anambra North had been considered worthy of leading the state?
The seeming injustice of this argument made form of appeal to the entire Anambra North and he was to finally bury his political capital in the rubble when he dashed with the Ofala festival poorly timed campaign rally in the old commercial city. Ngige's ineluctability also stemmed from his infamous defence of the inhuman deportation of his kit and kin from Lagos after they had been incarcerated for eight months by the state government. Regrettable as the issue was, Ngige is not known to have shown any remorse whatsoever over his comments. All these weighed heavily against him on Election Day.
Similarly, people who cry blue murder over the defeat of Senator Ngige must have thought lightly of the rivalry between Igbos and their Yoruba cousins. Even Senator Ngige seemed to have missed this point in his calculation. As it turned out, old animosities and suspicions are grist to the mill of bitter politicians. It was so easy for APGA chieftains to cast Ngige in the mould of an imposition on Ndi Anambra and an attempt by Yoruba power barons to establish hegemony in Igboland. Needless to say, Ngige's gubernatorial dream went up in the smoke of the mutual suspicion between these two ethnic nationalities. The truth is that it would have taken a miracle to have an APC candidate emerge victorious in the last Anambra governorship election, but will the stone-deaf opposition accept this?
Another factor that most analysts who bicker over Obiano's victory in the Anambra poll have conveniently forgotten is the towering influence of Dim Chukwuemeka Odumegwu Ojukwu. It is well known that even in death, his mystique has not diminished. People forget that the late Ikemba spent his twilight years constructing a political Ark for Ndigbo. It would have amounted to a grave disrespect to his memory and all the ideals he lived and died for if APGA had lost an election in his home state barely one year after his death. No other ethnic group in Nigeria can afford to treat its hero with that level of disdain and callousness. It would be unfair to expect Ndigbo to do so to their most revered hero. Not when Obiano's campaign speeches were laced with tributes to him and not when Ojukwu's son played a major part in the campaign rallies.
It is also hoped that Ngige and Ifeanyi Ubah would have learnt an elementary marketing lesson from their colossal losses in the Anambra poll. Most observers who followed the execution of the campaign strategies adopted by the various candidates in the election can tell that Ngige and Ubah did not properly define the audiences of their campaign messages. The two ran a highly expensive campaign on national and international media, pitching their materials to audiences that had no hand in their electoral chances.
While most observers say it is typical of Ngige to play to the gallery, others claim that Ubah felt compelled to prove through his campaign that he was solvent to a wider audience. A clear indication of the duo's misjudgement of their target audience is the fact that while the campaign lasted, Ngige's billboards were sighted in strategic locations in Lagos. This, in part explains the strong illusion in the Lagos media that Ngige was the leading candidate in the race. Unfortunately for Ngige and Ubah, APGA's strategy was a more effective approach to the voters that involved a door to door campaign across the length and breadth of the state.
Obiano swept all available endorsements, from the traditional rulers to Ohaneze, the church, women groups, town unions and the youths. The APGA party chieftains spoke the language of the people. They sang Igbo songs of brotherhood and shouted slogans like "Onye aghana nwanne ya" loosely translated as "be your brother's keeper." They pointed at Governor Peter Obi's solid achievements as proof that the party understood the needs of the people and how to respond to them.
They reminded the people of Senator Ngige's palpable failure in the Senate and Ifeanyi Ubah's heavy debt profile that weighed him down. They dredged up old fears about Tony Nwoye's role in the saga that made Chinua Achebe to write an angry open letter to President Obasanjo. They convinced Ndi Anambra to ignore all other candidates and vote for Obiano. The people heard and obeyed. They obeyed because they could see the merit in APGA's gospel of "Continuity." Governor Obi's impressive achievements are too outstanding to be ignored in an election time.