OUR CHALLENGE IS CUSTOMERS SATISFACTION, SAYS HERKEMIJ, MD, NB PLC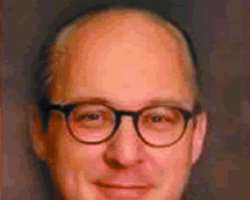 Our challenge is customers' satisfaction, says Herkemij, MD, NB Plc
•'We will remain in Nigeria'
By CHARLES NWAOGUJI
Thursday, March 11, 2010
Michael Herkemij
While other multi-nationals are investing and relocating their factories to other West African countries, Nigerian Breweries Plc, Managing Director, Mr. Michael Herkemij said the company has no plans to leave the country but would continue to increase its investment in the Nigerian economy because of its faith in it.
Mr. Herkemij told the Daily Sun that it would be unfair for any company to say that Nigerian environment was not good for investment, looking back to what the country used to be in the past, where there was enough power supply, good roads etc.
'We have been enjoying a lot of patronage from Nigerians and we wouldn't leave the country now that the country needs us mostly, we are taking time to invest heavily in Nigeria's economy'.
'We have no plan whatsoever to move to Ghana, as other multi-national companies are moving either to Ghana or neighbouring countries, we have always believed in the Nigeria economy. Even if there are power outages, things will soon work out. I think the government is doing something about that,' he declared.
He attributed the success story of his company to hard work, dedication and ingenuity. 'We believe in team work. The management and staff relate well with each other,' he said.
In an interview with Daily Sun, the Managing Director/ Chief Executive Officer also spoke on why they are investing heavily in Nigeria, the secret of success, challenges, future plans, corporate social responsibility and other related issues.
Excerpts:
Challenges of infrastructure
There is no country in the world that does not have one challenge or another. All these challenges are everywhere in the world. I have seen other countries that are worse in their economy but doing well today. They have at one time or the other passed through certain economic challenges. It is like that.
These hurdles are part of developmental processes in developing countries. There is no way everything will be right at the same time.
When we look at the challenges, that means we do not want to move forward. America and Europe have also passed through the same challenges in the past. All facilities cannot be 100 percent complete in developing countries. We have our own power for production. There is now conducive atmosphere for things to grow. Even if you plant a flower, for it to become a tree, if there is no water and manure, it will not grow. Government is trying and moving in the right direction to see that Nigeria becomes a good environment for business.
Plans to establish a plant in Ghana
Not yet. But l stress that African countries are now opening up for business. We are happy to contribute mainly by investing in Nigeria. We are satisfied with our operations in Nigeria. We are happy with our results. And when we see our team, there are great potentials.
For modern breweries, you need a lot of capital to build it. You can actually use modern facilities. All we need do is improve existing facilities.
We are not leaving Nigeria, because of the power situation. The power problem in the country is not new, it has been a recurring problem that has been with us for ages and I agree that it is worsening but the company has been running on generators for the bulk of the time. We believe with the present government things will work out for better.
Impact of NB on the economy
If you are talking about the company's impact, what I would like to say is that a wall is made brick by brick and we call ourselves the bricks building wall. Ours is a humble contribution. NB, in its humble way, is making Nigeria proud. We are giving world class quality products, these are the little things that we do. We are one of the few companies that are also into backward integration, in doing that, we buy from the local farmers and they get better earnings for their products.
So, besides the direct employment, there is so much indirect employment and that is one of the reasons why every country wants to encourage industrialization because that is a sure step towards realizing the goal of becoming a developed nation. In NB, it is much pronounced because we deal on fast moving consumer goods which have to be available in every nook and cranny.
They have to be available in so many shops. I do believe that as a company, we are, with all sense of humility, contributing our quota towards the economy. Yes, it may not be in such a grand scale, as probably oil companies, but let me share something with you. I have gone to very remote parts of the country and I have seen villages where our products are. It impacts on the people because it changes their lifestyle and earn income to them.
The rebirth of NB brewery
Nigerian Breweries Plc, the pioneer and largest brewing company in Nigeria, was incorporated in 1946 and recorded a landmark when the first bottle of STAR Lager beer rolled off the bottling lines in its Lagos Brewery in June 1949. This was followed by Aba Brewery which was commissioned in 1957, Kaduna Brewery in 1963 and Ibadan Brewery in 1982. In September 1993, the company acquired its fifth brewery in Enugu while in October 2003, a sixth brewery, sited at Ama in Enugu state was commissioned.
It is an 85 percent Nigerian. When we came in into Nigeria, our desire was to set up the company borne out of dream to produce quality products of international standards that will serve both local and international markets at affordable prices. At that time, people did not have confidence on goods produced in the country. We were determined to build the confidence of the people that goods of world standard can be produced in the country.
We ensure we use the best machines, best concentrates, best quality products, everything of world class quality are used in our production process. We have continued to maintain the best quality standard in all our products. Nigeria Breweries has a rich portfolio of other high quality brands such as Gulder lager beer (1970); Maltina (1976) well as Maltina Sip-it, package in Tetrapaks, launched in 2005, Legend Extra stout (1992); Amstel malta (1994), Heineken lager (re-launched into the Nigeria market in June 1998, Gulder Max and Fayrouzl introduced in 2006.
As the foremost brewery in Nigeria and the clear leader in innovation, in 2000, we introduced a unique bottle design to package its iconic brand, Star lager beer, which instaneously attracted overwhelming endorsement by its teeming loyal consumers across Nigeria. We so much believe in productivity drive. When properly harnessed, productivity can lead to increases in output and cost reduction, which will have an overall positive influence on our consumers; improved productivity will keep our price increase low.
I must confessed that the story of Aba Brewery is the story of resilience, doggedness and a total commitment to the essential values and ideals that have over the years defined our company from being one of the oldest breweries in the family, having been commissioned in 1957, Aba brewery has constantly re-engineered itself and is today driven by a vision to be the centre of excellence in manufacturing operations.
Twice in its 53-year history, Aba Brewery has faced serious challenges that threatened its very existence. But on each occasion, the brewery came out stronger, better and more focused.
For instance in May 1967, exactly 10 years after the first bottle of star was produced in Aba, the brewery was shut down as a result of the Nigerian Civil War. The War caused considerable damage to the brewery and it is a mark of the commitment of Nigerian Breweries Plc to Aba and indeed the Eastern Region that it decided to keep faith with the people by rehabilitating the breweries after the war.
It again came under trial in April 2005 when developments in the operating environment forced the company into a major realignment exercise aimed at achieving continued operational excellence. A major consequence of that exercise was the scaling down of operations in the brewery.
Aba brewery was to be used essentially for what was euphemistically described as focused production. This necessitated the stoppage of lager production in Aba, massive reduction in the work force and transfer of essential equipment to other locations.
In spite of all these challenges, threats and difficulties, our Aba brewery is on the march again.
Corporate Social Responsibility initiatives. Nigerian Breweries Plc is a socially responsible corporate citizen with a very good record of corporate philanthropy in the areas of education, the environment (water) and sports, among others. The company in 1994 established an Education Trust Fund of N100 million to take more active part in the funding of educational and research facilities in higher institutions, all in an effort to provide and encourage academic excellence in Nigeria. This is in addition to its secondary and university scholarship programme for children of its employees.
Nigerian Breweries Plc is the foremost sponsor of sports by variety in the country with sponsorship covering Football, Athletics, Tennis, Cycling, Chess, Golf, Badminton and Boat Racing .The aim is to develop Nigerian sportsmen and women to participate in national and international sports, and boost the sports profile of the country.
The company is also involved in the development of musical and movie talents, through various programmes. Some of these activities are captured in the Social and Environmental report.
Secret of Success. One of our secret of success is team work. We believe in team work here. Management and staff related well with each other.
We are people-centric in whatever we do. That has unleashed creativity.
Another important thing is that everyone is always involved in any project we want to execute. Everyone is carried along. This gives a sense of belonging to every staff.
We also have an open door policy. We equally enjoy goods relationship with our host community and we have executed a number of CSR projects such as donation of solar-powered borehole and refurbishment of classrooms designed to make life better for them. All these have ensured that our business runs smoothly.
Key Innovation
One of the key innovations that we have introduced is a locally made line monitor, equipment that would have cost millions of naira if imported. The data recording software helps in detecting causes of machine breakdown. This obviously saves valuable time that would have been lost in trying to detect malfunctioning equipment. We have developed a process to reduce brewing vessels cleaning time, particularly between Malting and lager production, in line with the desire to maximise brewhouse utilisation.
Another innovation from us is our water pre-treatment facility which was designed and fabricated in-house by our engineering Department, using local content. We have a reward system for those that have excelled in performance based on superior performance, we promote staff regularly as the needs arises. We don't fail to reward the best staff to strive for excellence in performance of their duty.
Company's Strategy
We carry out survey to know what the people want. It is through such survey that we introduce new products. Introduction of new products is done through market research. Though, it is expensive, but that is the only we will be able to know the desire of the people.
We always deliver quality products. As l have told you before, when l came to the country, l saw that all our things were done with a class.
We respect people's expectations. And we always want to live up to the expectations of the consumers. Their expectation level is risking. Our biggest challenge is how to maintain the consumers' expectation from us, to continue to provide quality products at affordable prices.
Research and development
Nigerian Breweries Plc keeps pace with key international developments, thus ensuring that its systems, processes and operational procedures are always in conformity with world-class standards.
It is in line with this policy that the company established a Research and Development Centre in 1987 to enhance its research activities on all aspects of brewing operations.
As a major brewing concern, the company encourages the establishment of ancillary businesses. Many of these organizations and individuals depend largely on the company for their means of livelihood. These include manufacturers of Bottles, Crown Corks, Labels, Cartons, Plastic Crates and such services as Hotels/Clubs and our Key Distributors.
Future Plan
Our focus will remain on improving productivity at all levels without compromising quality. Our aspirations and expectation are high in term of improving productivity. Productivity enhancement is critical to the survival of any business given the current global recession, with huge demand for raw materials, sharp increases in prices of food and fuel.
We have several on-going projects in all our locations to increase out put and productivity.
One of these is the lager line in Aba have started operation. Our second canning line project in Ibadan is also on course, while the construction of Lagos Brew Houses has been completed recently.