Genevieve Nnaji Delves Into Fashion Again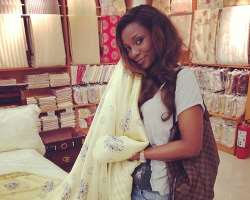 In 2008, star actress, Genevieve Nnaji announced that she was going into clothing line. She then launched St Genevieve, which some critics say wasn't successful as they would have expected. Her fans had thought the fashion line would be a household name just like her, but this fell below expectations.
In January 2013, she was pictured posing with some friends wearing her fashion imprints, which fuelled the speculations that she was about going back into the highly competitive market of fashion. But that was the last some of her fans heard about it.
If gist reaching us is anything to go by, the alleged lover of music star, D'Banj may be trying to go back into the business again, but with a bang.
Some days ago, the actress and darling of many movie buffs, was in the office of the boss of Kinabuti Fashion, Caterina Bortolossi. Gist flying around is that Genevieve is thinking of partnering with the fashion designer to make a comeback into the market.
However, the name of the new clothing line is still closely guarded by the Imo State-born screen diva.
For now, no one is sure when Genevieve will launch the new clothing line. People only pray that it doesn't end up like the St Genevieve.