Perishable Cargo Airports ready mid-2014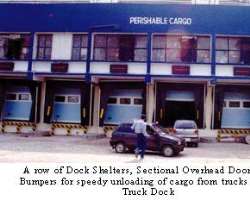 Nigerian aviation sector will be recording a landmark in 2014.
According to the Federal Government, the  14 Perishable Cargo Terminals airports will kick start operations in the middle of 2014.
This development is expected to boost export of farm produce from the country as Nigerians are expected to airlift their products to various destinationas in the globe.
The Minister of Aviation, Mrs. Stella Oduah, projects that  revenue that will accrue from the export of farm produce by Nigerian farmers through the perishable cargo programme would surpass that earned from oil revenue in the next 10 years.
The minister, at the weekend, said, 'It would also empower farmers who constitute 85 per cent of Nigeria's work force and reduce poverty in the country by 60 per cent,' she said. Oduah explained that these terminals have been selected in line with their regional agricultural comparative advantage and private sector expressions of interest. 'They will enhance the farm-to-market value chain, consequently improving the food security network, rural transformation by creating rural employment opportunities in storage, warehousing and air/road transportation logistics,' she explained. According to her, the perishable export cargo programme would utilise open field cultivation for the fresh produce, as farmers would be able to transport their products to collection centres in the states, while refrigerated trucks would deliver the products to the primary airport hubs. 'These collection centres are part of the farming skills centres in each of the state with the perishable cargo terminals. The fresh produce would find its way to local farmers markets or be exported to supermarkets in EU, USA or the Middle East where off-takers would have made pre-arranged inspections and processes for the produce.' According to the minister, the project which is being driven by the Federal Government, has a remarkable support from states and local governments. Her words,  'The perishable cargo terminals are in various stages of completion and should deliver the first fresh produce to local supermarkets and international markets by 2014.' 'Various private investors and state governments have expressed readiness to take advantage of the programme and contact the relevant authorities for permissions to establish Export Processing Zones or Free Economic Zones at the terminals.'