Niger Delta youths praise PPMC for products' distribution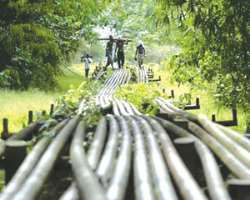 The Pipeline Products and Marketing Company (PPMC), Warri Depot, has been commended for establishing stability in the oil and gas industry through the effective and efficient distribution of petroleum products across the country.
The Niger Delta Youths for Transformation Agenda (NDYTA) gave the commendation during a visit to the Depot Manager, Mr Ali Abdallah.
It said the authorities at PPMC Warri Depot has eliminated favouritism in the distribution of petroleum products in the area, a development which has brought peace and sanity in the system.
The National Coordinator, NDYTA, Mr. Fiawei Pathfinder, who led other former Niger Delta militants from Ondo, Edo, Bayelsa and Rivers states to the Warri Depot, noted that Abdallah has brought stability, zeal and patriotism even among all petroleum related unions.
Pathfinder noted that the stand of the Depot Manager against crude oil theft, oil bunkering and pipeline vandalism was worthy of note, adding that the group will support him since he was working in line with the transformation agenda of President Goodluck Jonathan.
He also called for support from all and sundry to ensure that the PPMC succeeds in its mandate.
Pathfinder said the group will carry out awareness campaigns to support President Jonathan, and enlighten communities on efforts they can make to stop such national sabotage, which has reduced the nation's oil output with its attendant shortfall in oil revenue.
According to him, between 2009 and 2012, Nigeria lost a total of 11.7 million barrels of crude to oil thieves, adding that this is crippling the petroleum sector and the economy in general, with revenue losses estimated at over $7 billion annually.
He noted that Shell Petroleum Development Company Limited, SPDC, has on a number of occasions; shut its 24-inch Trans Niger Pipeline, TNP, due to activities of vandals.
He stated that the group will undertake voluntary awareness campaign to the creeks and communities on the need to protect NNPC pipelines and to support President Jonathan to put an end to oil theft and pipeline vandalism, adding that this enable the Presidency actuallise the transformation agenda in the oil and gas industry.