Soyinka's daughter dies at 48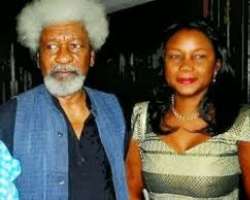 Nobel Laureate, Professor Wole Soyinka, has lost a daughter Ms Iyetade Soyinka.
Ms Soyinka was  born on June 6, 1965.
She died at University College Hospital (UCH) after being treated for an undisclosed ailment.
Jahman Anikulapo, an aide to Soyinka, who broke the news of Iyetade's death in a press release, on Sunday, described her as 'affable, intelligent and sometimes capricious.'
Anikulapo in the statement issued on behalf of the deceased family, said that Iyetade "took ill quite suddenly and passed away while being treated at UCH, Ibadan."
Iyetade "struggled with her health in recent years" and not minding her health woes, she 'greeted every day with a smile and doted on her two children," he said.
According to  the statement,  the late Iyetade Soyinkawas a student at the Staff School and Queens School, Ibadan before she studied Medicine at the University of Ibadan.
Iyetade leaves behind two children, both parents, numerous siblings, nieces and nephews.
No funeral arrangements were announced in the statement.