OBJ's Letter To Jonathan unnecessary – Alamieyeseigha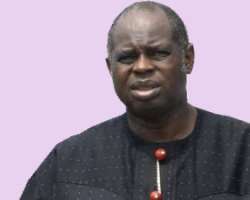 Dr.D.S.A Alamieyeseigha was the first executive governor of Bayelsa State. In this chat with newsmen in Yenagoa, he examines the content of the controversial letter written by former president Olusegun Obasanjo to President Goodluck Jonathan.

How would you consider the letter of the Former President, Olusegun Obasanjo to President Goodluck Jonathan?

I want to start by saying that this is a democratic government; today, it is President Goodluck Jonathan, yesterday it was Umaru MusaYar'Adua, the day before yesterday it was Chief Olusegun Obasanjo.

The office of the President of the country is an institution; it is not personified per sea in terms of policies and programme. The aggregation of our thoughts is that when the president was voted into power he had been mandated to execute state policies on behalf of the citizens. President Jonathan is not a super human, so if the country is drifting in the eyes of objective and patriotic persons in the country they can come out and proffer better solutions after identifying the problems.

But such criticism must be constructive and not laced with bias, hatred and sentiment. Such alternative views should be passed on with love and genuine intentions. Once it is perceived that such criticism has a hidden motive outside fairness, then, it becomes questionable.

The advice through a letter to President Jonathan no doubt is coming from a respected person who has ruled the country both as a military Head of State and a two time President of a democratic government. Yes we can concede to him, he has the in-depth knowledge of governance, he has seen it all, and so a letter coming from him should not be taken on the face value.

In my objective opinion I will say President Jonathan and his aides should look at it and make a proper analysis of the content. But my grouse with the entire scenario is that the approach to writing the letter to President Jonathan is very mischievous and there is clear bias and sentiments in the circumstance which has caused it to generate controversy.

At least, as a former governor I will say that I have encountered Chief Obasanjo, the Obasanjo I know, when he was the president of this country had displayed all the things he is alleging against Jonathan even more than any other leader in the country.

There is no issue he has raised in his letter that he did not do when he was at the head of government in this country, that is why am insisting that Chief Obasanjo is mischievous in his   intent of writing the letter to President Jonathan and leaking it to the press.

Chief Obasanjo's character is that if it is not him it should not be nobody else, he is 'Mr Know all'. He will call you for a meeting to come and brainstorm to proffer solutions to a problem, he will tell you about the problem and proffer solution without giving you room to make any contribution to what he invited you to; that is his character.



What was your reaction when you read the Obasanjo's letter to Jonathan?

It surprises me that  Chief Olusegun Obasanjo is the one insinuating about the aspiration of President Goodluck Jonathan come 2015. To be precise, on 18th of August 2005, then President Obasanjo called me into his inner office and asked me why I was supporting his Vice Alhaji Atiku Abubakar.

He offered to give me whatever I would have benefited supporting Atku. He told me that if I don't work for him its possible he will give it to my deputy. He had explained to me that he is not the oldest President in Africa that he wants to continue for an extended tenure in office. He told me not to support a bloody civilian like Atiku Abubakar and that I should work with him to actualise his ambition.

Today he is denying everywhere that he never wanted a third term in office. I am also very surprised that Chief Obasanjo is talking about drift in governance and development.

Since 1999 after Chief Obasanjo assumed office he was only globe-trotting; it was Atiku Abuker that was running the country, nothing had happened, Obasanjo did not achieve anything as a President during his first tenure all in the name of laundering the image of the country.

In his second tenure when he realised that  Atiku Abubaker has already put in structure all over the country to take over from him, he started fighting him, so in his second tenure again he did not achieve anything he was busy fighting Atiku, Alamieyeseigha and the rest of other persons he suspected where not on his side. So in concrete terms what did he achieve as a president for the eight years he had ruled this country.

Today he is talking about Goodluck Jonathan training snipers or whatever he calls it and having a watch list, how many high profile persons have been killed during Goodluck Jonathan's time compared to the long list of great men who were killed during his time as president of the country. Has he forgotten about Bola Ige, what happened to Marshall Harry, Dikko, Funsho Williams, I can go on and on. Who had the sharp shooters that killed all these prominent Nigerians and what has been the outcome of their investigation.



How would you consider the mention of IBB,Abdulsalami,T.Y Danjuma?

If  I may ask again, what is the rationale behind Chief Obasanjo copying two former military rulers and T J Danjuma in his letter, I am sure his reference to Dr Ekweme is only an after-thought.

Nigerians should underline this and study it. This is food for thought for the citizens. Also know that Obasanjo only promotes himself, in 1992 when Abiola was contesting to become the president of the country, one of his worst antagonist was General Obasanjo, there is nothing he did not do to pull Abiola down and accusing him of being a CIA, FBI agent and all sort of accusations and insisting that Abiola is not fit to be the president of the country, he even offered himself to be the interim president of the country.

Abacha came he used the same style to pull him down, Abach could not stand it and put him in jail. God using General Abdulsalami Abubakar, he was brought out from jail and the Yorubas were compensated particularly the Egba area and gave them the presidency which he was the main beneficiary.

When he emerged as the president of the country, what did he do in his second coming as the leader of our dear country.



How would you describe President Jonathan against the backdrop of Obasanjo's claim that he is clannish and an Ijaw President?

This is an unfortunate statement coming from a respected leader like Obasanjo. Go and take statistic of Ijaw people working in the presidency. When Chief Obasanjo was in Aso Roock, the spoken language in the villa was Yoruba and it was done with impunity. Even in the security services, when he came he appointed Smith as Inspector-General, when he dropped Smith he brought Balogun and Ehindero. The Director-General of State service Mr Are was from his place. Apart from the Minister of Petroleum Resources who is from Bayelsa and married to Imo state what other office or top government position is anybody from Ijaw holding.

Okay, just listen to me, the Vice President is from the North, the Senate President is from North Central, the Speaker of the House Representative is from the North, the Chief Justice of the Federation is from the North, the Inspector-General of Police is from the North, Comptroller-General of Customs is from the North, Comptroller-General of Immigration is from the North, Comptroller-General of Prison is from the North, National Security Adviser is from the North, Chief of Air Staff is from the North, Chief of Defense Staff is from the North, INEC chairman is also from the North, which office is left or which other office  is any Ijaw man occupying that Obasanjo would accuse Jonathan of being clannish.

With all of these I want to say that this allegation is not necessary, unbelievable and offensive at this time the country should be seen as one united entity devoid of ethnic bias. After helping somebody to become President, How can you also deliberately want to incite the people against him. Obasanjo is only trying to use his own hand to destroy what he had built, he wants to pull down Jonathan for reasons only best known to him, this is not right.

Obasanjo is not more patriotic than any other Nigerian. The country belongs to all of us. We fought as a people to sustain the unity of the our great country.



But must one dismiss the entire content of the letter?

No man is infallible; there is no man on this earth that knows everything about governance, even if you have tested power severally one is still bound to make mistakes. Governance is a very complex thing, the office of the President if you are not careful only those who want to tell you what you want to hear will have access to you.

I cannot say the content of the letter is entirely rubbish as a Nigerian. You should know that President Jonathan must step on some toes for him to achieve success in the reforms he is embarking upon. He has done certain things that only courageous people can do. The pains for the ultimate realisation of the Nigerian dream can only last for a while.

We must concede that at least Jonathan has achieve some great feat, but those thing that he has done well he should be encourage and advice in the right way  and with good intention and not staying outside to command him as if the president of the Federal Republic of Nigeria is your subject you can just seat anywhere to control. Leadership is like a relay race, Goodluck Jonathan should be allowed to run his race.



How will the letter and its content affect President Goodluck Jonathan's aspiration for 2015?

Obasanjo is not Nigeria, he alone cannot tell the citizens what to do, remember he lost election in his own village; that is how unpopular he is, even up till today or tomorrow, but Nigerians still voted for him.

His disposition cannot significantly affect the electoral fortunes of Jonathan. It is only God who gives power, if God so desires that Jonathan continue in office then his aspiration will come to fruition. Jonathan has done much more than any other president has done let us support and encourage him instead of trying to pull him down by whipping up sentiments.



What would you say the Ijaw Ethnic group has gained from Jonathan's Presidency?

We have donated Goodluck Jonathan to Nigeria, he is no more an Ijaw man, he is a Nigerian from all tribes, he is like a father and leader to all the tribes in the country and he must be seen to impact in the lives of all the citizen of the country in terms of distribution of amenities.

There is no special preference he has given to any Ijaw man. If you like walk from Igbogene to Swali waterside, that is the capital of Yenagoa. You are residing in Yenagoa how many federal project have you seen here. Every Wednesday at the Federal Executive council meeting we hear billions of naira being earmarked and distributed to other parts of the country for projects but none has come to the state.

The East-West road that is so important to us is still being poorly funded, where lies Goodluck being clannish or only benefiting his people. But these are things we cannot go in the open and start discussing. He is our son, he is our brother. So I expected President Obasanjo who has unfettered access to Aso Rock at all time go to the president and give him advice as an elder and somebody who has been there before him instead of making a show out of it by writing a letter.