OBASANJO VS JONATHAN: RE-EMERGENCE OF ABACHA ERA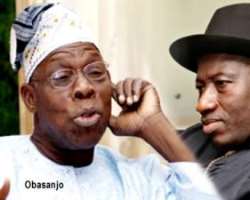 The bitter truth of the year is the content of the controversial letter written by the king maker to the king; it takes courage and conviction to speak from the other side of the mouth regard the house you built. The tone of OBJ letter echoes regret and abstemious, he has committed a blonder by been instrumental in the entrusting of such highest position in the country in President Ebele Jonathan. No wonder, the king makers are the first to kill by the bad kings… OBJ has such audacity to speak to the president of Nigeria, a benefactor of OBJ who concurred to the fact that OBJ is the third most important person to him in life, now in total derail from the goal of the king maker who claim he stand for national unity.
Because the angle of deviation is 180, totally apart, opposite to national unity, OBJ has to voice out when it becomes glaring that the country is not safe under the political manipulation of GEJ and his aides and advisers. The manner PDP crisis was handled is a thunderous signal to a sensitive person, crudely, carelessly, unintelligently handled. If PDP can be denudated and weathered by the GEJ, BAMANGA TUKU and like, you don't wait to be told that Nigeria is not safe in their hands.
Litmus test is a final test in chemistry, it is a confirmatory one indeed, OBJ has confirmed GEJ government as the most corrupt government in the history of Nigeria democracy, where corruption is not only part of government policy but corrupt men are part of the decision makers in the government. Suddenly and surprisingly, the parastatals that is constitutionally established to fight corruption is paralyzed by the administration that proliferate corruption, you must have heard a crying of the EFCC that it is financially broke, when there is no found to fight, the anticorruption which is not ready to fight ab initiao consequently go to sleep and the corruption flies like doves.
What of the abuse of power? It was confirmed by the OBJ that the last time we had the tyrannical approach was during the dark era of Sanni Abacha. Order from the above is what we hears from the Nigeria police when they want to carry out evil and unconstitutional assignment of the president, such as the humiliation and denial of the four governors the right to hold peaceful meeting in Abuja.
My message to the President of Nigeria is that he has begun to write his history long before now and he continues to do same. It is a matter of time, like OBJ and other x presidents have no authority anymore, he shall has no more authority, history and God will judge him with his act or omission of today.
WRITE FOR - AFRICA GOOD GOVERNANCE AND LEADERSHIP ASSESSMENT INITIATIVE (AGGLAI)