Banker arrested for withdrawing N50m from Customers' accounts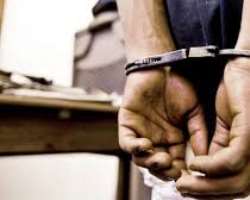 Police have apprehended  an account officer with Guaranty Trust Homes, Adeola Olokojobi, in connection with a N50m fraud at the institution.
the arrest was effected by the Special Fraud Unit, Ikoyi, Lagos State, following a petition in October 2013, from a customer at the branch where the accused worked who said that Olokojobi, his account officer, had 'not been forthcoming with his account balances.'
Commissioner of Police in charge of SFU, Mr. Tunde Ogunsakin, said in a statement, 'The petitioner also alleged that the balance given to him was at variance with his actual balance in the account.
'An internal investigation conducted by GT Homes into the account revealed that Olokojobi in April 2013, forged an instruction, transferring N15m from the petitioner's account, to an unknown account.
'The bank also discovered other various fraudulent withdrawals made by the account officer from other customers' accounts in his care through fake transfer instructions. It amounted to over N50m.
'He said the funds were used to finance his political campaign, a proposed pure water company and purchase of an uncompleted building at Sango-Ota, Ogun State.
'Olokojobi in his confessional statement said he had fraudulently withdrawn monies amounting to N50,640,748 from the account of the customers by transferring funds into the accounts of fictitious customers and subsequently withdrawing same.'
Olokojobi, a banking and finance graduate, according to reports, joined the financial institution in 2009.
He was said to have denied the allegation that he transerred over N50m, insisting that it was just N27m.
He said, 'I didn't have to forge the instructions from GT homes customers. All I did was manipulate them. What happens is that they usually send instructions to the account officers by email, requesting that some money be transferred to an account of their choice. All I simply do is add another million or two to the sum the customer requested.
'It went unnoticed all this while because after using the money to do some business transactions, I always paid it back. I was into several businesses; I would buy land and resell for profit.
'I got into trouble with this one because I withdrew N15m at once from a customer's account; I didn't take it bit by bit, but I meant to pay it back. In fact, I had already started doing so before I was caught and arrested. But the police are not right in saying that the money I had withdrawn from customers amounted to N50m; it is N27m.'
Ogunsakin said the suspect would soon be charged to court, where he could defend himself.