South-South leaders berate Obasanjo over letter to Jonathan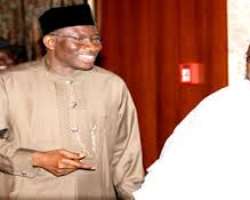 A group of the South South leaders have berated former President Olusegun Obasanjo over his recent spate of attacks and destructive criticism of President Goodluck Jonthan.
The group on Thursday asked former President Olusegun Obasanjo to stop harassing, intimidating, stampeding or blackmailing Jonathan for the purpose of furthering his clandestine agenda.
Obasanjo had recently accused President Jonathan of sundry issues, varying from misrule to marking out political opponents for elimination.
According to the group, since Obasanjo's bid to foist Jigawa State governor, Sule Lamido and Rivers State governor, Rotimi Amaechi, on Nigeria as president and vice president, respectively, failed, he had resorted to ploys to de-stabilise Jonathan-led government.
The Group met in Abuja.
The South-South leaders, which is the zone where President Jonathan comes from, reminded Obasanjo that Nigerians could not breathe through his nose, adding that they supported him when he was the president.
They spoke through their spokesperson and chief coordinator in the Federal Capital Territory (FCT), Chief Bello Premier.

They condemned Obasanjo's letter to Jonathan, describing it as false and mischievious.
The group said, 'General Obasanjo is only shouting wolf when there is none at sight. The letter is full of premeditated ideas geared towards undermining the integrity of the South-South people and intended to keep them perpetually as minority in the political scheme of Nigeria as a nation.

'There is no way one man (Obasanjo) would want the entire country (Nigeria) to breathe through his nose.
'Only Obasanjo can explain the reason he decided to embark on his failed mission. The entire South-South people are looking at his face.
'If he had his constitutional right to stand for an election to vote and be voted for, same goes for Dr Jonathan, who is a bonafide Nigeria from the South-South. The right of offer or refusal to contest in 2015 solely rest with Jonathan alone.
'He must not be intimidated, harassed, stampeded or blackmailed to surrender power against the collective will of the good people of South-South and Nigeria, who in 2011 gave him their mandate.'
It stated further that the developmental stride, as witnessed in this current administration of Jonathan, had never happened before in the history of Nigeria, despite the enormous challenges foisted on the way of the incumbent administration.
The group said the Jonathan-led administration had made tremendous impact  in the power, telecommunications, agricultural, sport, education, health, defence, highways, aviation, waterways and other sectors.