Shake-up in the army: GOCs, Brigade Commanders, others moved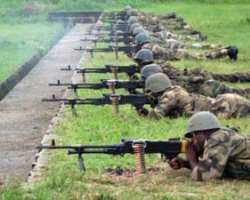 The Nigeria Army Friday announced a massive redeployment of some of its key senior officers including General Officers Commanding (GOCs), Corps Commanders.
Two GOCs were affected in  the exercise announced in a statement by out-going army spokesman, Brigadier General Ibrahim Attahiru.  Major General John Nwaoga of the 3 Division and Major General Junaid Bindawa, 7 Division of the Nigeria Army were both redeployed..
The army authorities explained in the statement that the changes were part of the fourth quarter postings and appointments of senior officers.
The list of the affected officers include,  Director, Defence Information, Major General Chris Olukolade; Director, Army Public Relations, Brigadier General Ibrahim Attahiru; Major General John Kwabe, now Chief of Logistics, Defence Headquarters; Commander, Nigerian Army Armoured Corps, Major General Ugo Buzugbe;, Military Secretary (Army), Major General Ebiobowei Awala and Director, Policy, Defence Headquarters, Major General Olufemi Adeosun,.
Others are;  Commander, Nigerian Army Education Corps, Major General Sunday Adebayo; Commandant, Nigerian Defence Academy, Major General Mohammed  Idris; Director, Armed Forces Simulation Centre, Major General Mobolaji Koleoso; Director, Military Intelligence, Major General Letam Wiwa; Director, Legal Service (Army), Major General Patrick Akem; Director Peace Keeping Operations Defence Headquarters, Major General Charley Okoro, as well as Chief of Civil -Military Affairs, Major General Obidah Ethan,.
Also affected are: Commandant, Nigerian Army School of Artillery, Major General Modibbo Alkali; Major General Shehu Yusuf, Commander, Nigerian Army Training Centre, , Commandant, Depot, Nigerian Army; Major General Ahmed Mohammed; Commander, Joint Task Force (Operation Pulo Shield), Major General Iliyasu Abbah,; Commandant, Warrant Officers Academy, Brigadier General Arinze Ebenebe; Director of Army Reserve Recruitment and Resettlement, Brigadier General Ebenezer Ogundana;, Director of Physical Training, Brigadier General Kasimu Abdulkarim; Commander, Multi-National Joint Task Force, , Brigadier General Enitan Ransome-Kuti,; Commander, 23 Brigade, Brigadier General Ibe Nicholas; Commander, 9 Brigade Brigadier General Ohifeme Ejemai; Commander, 3 Brigade, Brigadier General Bright Fibionumama; Commander, 13 Brigade, Brigadier General Ibrahim Attahiru; Head, Nigerian Army  Operations Monitoring Team, Brigadier General Mustapha Onoyiveta,;, Commander, 34 Brigade, Brigadier General Lanre Bello and Brigadier General Olajide Laleye,  among others.
Reports showed that the presidency has ordered a round-the-clock surveillance of all major installations across the country as part of security arrangements put in place to ensure a continuation of the peace enjoyed during the Christmas celebrations.
Already, the Nigerian Army has suspended all passes and annual leave of its officers and men until after the New Year festivities.
The reports indicated that the military authoritieshad directed all General Officers Commanding (GOCs) and corps commanders that all annual leave and passes be put on hold and all officers and men on leave be recalled with immediate effect.
According to the reports, the directive was part of f security measures put in place during the festive period to be fully battle-ready to combat any threat to public peace.