Impeach Yar'Adua Now - Buhari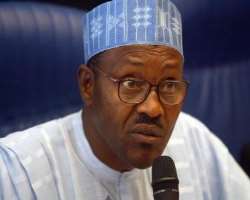 PHOTO: GENERAL MUHAMMADU BUHARI.
San Francisco March 09, (THEWILL) A former Head of State, retired Major General Muhammadu Buhari has called on the Executive Council of the Federation to declare Nigeria's ailing President, Musa Yar'Adua incapacitated and begin the process of his impeachment.
The former military head of state said the refusal of the council to follow constitutional provisions with regards to Yar'Adua's illness has thrown the oil rich nation into its present crisis, arguing that the 1999 Constitution was clear on the issue of succession when an incumbent president is incapacitated.
Buhari made the declaration when he received members of the National Unity Forum in Kaduna who paid him a solidarity visit. He criticized what he described as "extra-constitutional measures", the measures applied by the National Assembly to empower Goodluck Jonathan as Acting President when the constitution already had a solution to the problem.
"Political expediency won't remedy this kind of problem because if the Executive Council of the Federation had acted in accordance with the constitution, by invoking the necessary sections to declare the President incapacitated, we would not have found ourselves in this present situation.
"As you can see, adopting extra-constitutional measures have not addressed the problem. If it had, we would not have been subjected to the raging debates and controversy going on. So, we must go back to the constitution. The Executive Council of the Federation must do the right thing because once we start moving away from the constitution, then we are inviting anarchy," Buhari added.
While speaking on electoral reforms, Buhari urged Acting President Goodluck Jonathan to make it top priority, adding that unless free and fair elections are conducted next year, the polity and country would not be stabilized.
"Look at what happened in Anambra. Voters' list went missing and a lot of people were denied the right to vote in the election. If INEC cannot organize credible poll in one state, how can they do it in 36 states and the FCT?" Buhari queried.
Nigerian President Musa Yar'Adua has not been seen in public since November 23rd 2009 and his true state of health has been a subject of national discourse.
|
Article source