Electricity workers give FG 14-day ultimatum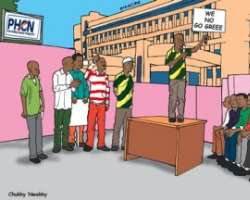 Electricity workers are yet to be fully paid their dues by the Federal Government which recently handed over the generating and distribution companies to their new private sector owners.
National Union of Electricity Employees (NUEE) has given a 14-day ultimatum ultimatum to the federal government to resolve all labour issues in the sector failing which it would mobilise members for an industrial action.
The union in a letter jointly signed by the union's President and Secretary, Mansir Musa and Joe Ajaero respectively, said their decision to embark on an industrial action was informed by government's refusal to honour  agreement jointly entered into, as well as the flagrant abuse of trade union rights by operators and regulators in the industry.
The body lamented that two months after the handover of the assets of the defunct PHCN the labour issues were yet to be resolved.
This, it noted, was despite repeated assurances by the President Goodluck Jonathan as well as the Minister of Power, Chinedu Nebo, that there would be no hand over until the resolution of all labour issues. In a letter notifying the power minister of the proposed industrial action, the union lamented the flagrant abuse of human and trade union rights in the sector adding that impunity and levity now characterised the official conduct of officers of the relevant ministries and agencies. According to the union, it  has waited in vain for the ministries, departments and agencies  (MDAs) to do the needful but to no avail.
The union alleged that  all the collective agreements entered into with government have all been violated.
It stated further  that about 10,000 workers in the power sector have not been paid a dime as their severance entitlement. It further noted that over 25,000 workers have not received their pension components while over 5,000 workers, who retired statutorily were yet to be paid their gratuity.
'The pension deductions of about 48,000 workers between July 2012 to date have not been effected. The entitlements of over 48,000 staff covering July 2012 have not been paid. About 50 per cent of the workers have been wrongly and illegally disengaged. About 3,000 verified casual staff have been verbally sent out of the industry without remuneration. The  union also contended  that the deduction of union dues without remittance have become the norm while the diversion of money meant for productivity bonus, leave grant, and bulk rent have also become the order of the day. It claimed that casual and contract appointments have been institutionalised in the sector adding that non-payment of staff salaries for two months running have just been introduced into the sector. 'Fund meant for payment of staff entitlement in excess of N100billion have developed wings, as the BPE, Ministry of Power and the Office of the Accountant General of the Federation are unable to explain the whereabouts of this money. Ten per cent equity shareholding for workers as collectively agreed have been jettisoned while salaries and wages of employees have been unilaterally reduced. The statement adds, 'All efforts made before now to address the various issues by the relevant ministries and agencies of government have met brick wall. We have waited patiently up to this moment, appealing to these ministries and agencies to do the needful but to no avail. 'From the look of things, it appears that the reform process is aimed at inflicting pains on workers and Nigerian people as government has earmarked about 50 per cent of the workforce in Transmission Company of Nigeria (TCN), a subsector still under Government control for disengagement. 'All these and many constitutes violation of International Labour Organisation (ILO) Convention 87, Section 40 of the Nigerian Constitution as well as  the Labour Act CAP 198, Section a( 6) (a) and (b).  Consequently, we wish to demand that if at the expiration of this 14 days' notice, these issues are not conclusively resolved, the Union will be left with no other option than to resort to self-help.'