Jonathan calls emergency meeting over attack on Borno barracks by insurgents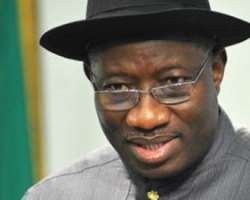 President Goodluck Jonathan held an emergency meeting with security chiefs on Friday following yet another attack  by rampaging Boko Haram insurgents in Bama, the headquarters of Bama Local Government Council.
The Bama attack which occurred on Thursday night left many victims dead in its wake.
The emergency security meeting was held to assess the spate and magnitude of insurgents in the areas under emergency rule in the country.
Jonathan confirmed the meeting with security chiefs in the morning of Friday while speaking at the decoration ceremony for newly promoted generals of the Armed Forces.
He said, 'I remember when I came in, I had had a meeting with the service chiefs and the Inspector General of Police because of what happened in Bama yesterday.'
The President did not give details of the attack which culminated in the meeting before he attended the decoration ceremony scheduled for 8 AM.
Investigations however revealed that the Special Forces killed 30 insurgents at a riverine community in Bama while they were trying to get water from the river in the morning on Thursday.
The incident was said to have angered the insurgents who attacked the Bama barracks in very large number on Thursday night.
It was learnt that the Special Forces and riot policemen engaged the insurgents in a shoot out killing a large number of them.
A source said that the insurgents entered the Bama Barracks, killed a soldier and took away his riffle during the attack.
It was gathered that that the insurgents fired at a military helicopter that was deployed from Maiduguri to Bama to give support to the land forces involved in the fight against the insurgents without any casualty on the part of the Special Forces.
It was stated that the aircraft got back to base successfully.
'What happened was that the insurgents numbering 30 were killed while they were trying to get water from a dam in the area. The attack occurred in the morning on Thursday.
'After the attack, they mobilized and attacked the Bama barracks in the night; they entered the barracks and shot a soldier to death; they took away his rifle.
However, soldiers and mobile policemen encountered them fiercely and killed many of them.
They also fired shots at a military helicopter deployed to the area, but the aircraft was not destroyed. I learnt that a soldier was killed,' the source said.
The Director of Defence Information, Brig. Gen. Chris Olukolade, said in an electronic mail on Friday that the terrorists who attacked the Bama barracks came through Banki town in the nation's border with Cameroun.
Olukolade said that the attackers used high caliber weapons such as anti-aircraft and rocket propelled guns in the night attack.
He said that Special Forces comprising ground troops and Air Force fighter air aircraft repelled the attack and were in pursuit of the fleeing terrorists.