Kengema Unity Forum Intensifies Campaign For Jonathan's Re-Election And Kalabari Governor Come 2015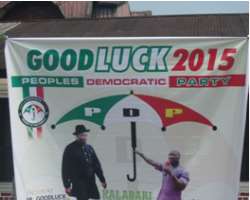 In furtherance of efforts geared towards ensuring President Goodluck Ebele Jonathan's re-election as president come 2015 and emergence of a kalabari indigene as governor, a socio-cultural organization of the Kalabari ethnic nationality of Rivers state, Kengema Unity Forum has held its eagerly awaited meeting/rally at its palatial headquarters in Amatoru Compound Buguma, headquarters of Asari-Toru Local Government Area of Rivers State.
The event held on Sunday 15th of December 2013 witnessed huge turnout of members and non members alike en masse to show unflinching solidarity and support for President Goodluck Jonathan's second term ambition. The occasion was also used to further add impetus to the campaign in support of a Kalabari indigene as the next governor of Rivers State come 2015.
Speaking to a mammoth crowd at the rally ground, the founder and Leader of the Kengema Unity Forum (KUF), Peace Ambassador Sobomabo Jackrich said the emergence of Dr. Goodluck Jonathan as the President of Nigeria was not only providential but a task that must be accomplished no matter the odds.
He narrated some of the achievements of president Jonathan which includes the stalling of fuel scarcity, boost in Agriculture that has contributed in diversifying our economy.
Amb. Jackrich also reminded the gathering that Jonathan has done tremendously well in supporting the Small Medium Scale Enterprises, SME's in the country through the restructuring of existing development finance institutions (DFIs) as retail outlets for financing domestic lenders and ensuring the bottleneck associated with loans for SME's ate expunged. This he said has built a strong wholesale institution that will increase and drive lending costs to SMEs down.
Jonathan's administration according to him is gender sensitive as it has supported women immensely. He said five Ministries, Agriculture, Water Resources, Health, Works and Communication Technology have signed MOUs with the Ministry of Women Affairs to deliver services targeted at women. Under the MOU, at least 35 per cent of jobs undertaken by the Ministries will be reserved for women.
'Similar efforts have been made in housing, job creation, aviation, transportation among others. He has consciously started a war against corruption and a lot of those affected are crying foul. We are not surprise at the opposing voices, the same people who has plunged this nation's resources wants to continue in their game but with wisdom like Solomon he has been able to weather the storm.
The leader of KUF, Sobomabo Jackrich who said he wouldn't want to bore people with reeling out president Jonathan's achievements stressed that Kengema Unity Forum (KUF) and its sister body, Network for the Defense of Democracy and Good Governance, NDDGG are committed to ensuring that President Jonathan is re-elected come 2015 without violence but through mobilization of grassroot and sensitization of the electorate on the need and advantage of enthroning president Jonathan come 2015.
It will be recalled that the KUF has sustained its campaign in favour of President Jonathan and Kalabaris to emerge as President and Governor respectively in 2015.
2013-12-20 145145
(2nd Front Row) Amb Sobomabo Jackrich (A.k.a Egberipapa) During The Buguma Rally