Husband Of Minister Of State For FCT Decamps To APC
As 22 Senators, 57 Reps Get Court Order To Retain Seats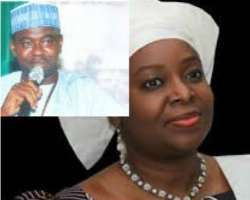 Hon. Ahman Aliyu Pategi, husband of Jumoke Akinjide, Minister of State, Federal Capital Territory, FCT, on Wednesday was among the 37 members of the Peoples Democratic Party (PDP) that defected to the All Progressives Congress.

Hon Pategi, representing Edu/Moro/Patigi, and five other members from Kwara State were also on the list of 37 members that defected.
Interestingly, Pategi is also a member of the House Committee on FCT.
The defection by the 37 members puts an end to the speculations on their political future. It was a culmination of weeks of meetings and speculations.
Meanwhile, a Federal High Court sitting in Abuja Wednesday granted the prayer of 22 Senators and 57 House of Representatives members seeking leave of the court to restrain Senate President David Mark and House of Representatives Speaker Aminu Waziri Tambuwal, from declaring their seats vacant.
The lawmakers were members of the new Peoples Democratic Party (PDP) who have now defected to the All Progressives Congress (APC).
The PDP had gone to court to seek an order to declare the seats of the lawmakers vacant.
The defendants in the suit are National Chairman of the PDP, Alhaji Bamanga Tukur, President of the Senate, the Speaker of the House of Representatives, the PDP and the Independent National Electoral Commission (INEC).
Justice A.R. Mohammed, after hearing from counsel to the Plaintiffs, directed that the 2nd and 3rd defendants (Mark and Tambuwal) should be asked to maintain status quo on any proposed deliberation to declare the seats of the affected and interested Plaintiffs vacant pending the hearing and determination of the Plaintiffs' motion for interlocutory injunction.
He adjourned the suit to January 22 for hearing of the Plaintiffs' motion dated 28th November, 2013 for interlocutory injunction. He directed that hearing notices should be issued to the 2nd and 3rd defendants