"Go For The Jugular", Ugo Njoku Tells Falconets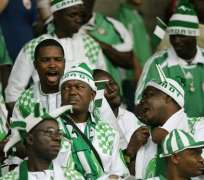 Nigeria Under 20 girls, the Falconets will clash with Tunisia in the second leg of qualification for Canada 2014. The team won the first leg 4-0 in Abuja.

And a member of the 2012 set-up, Ugo Njoku, who is yet to get a look-in has told the girls to go for the jugular against the Tunisian team.
"The Falconets are a good side. I am hoping and believing that the girls can finish the job and qualify for the mundial. The NFF have done their best by trying to motivate the girls by offering them incentives to do well.
"I believe if we remain focused on what's ahead of us, we can qualify and go as far as winning the World Cup," Ugo told a facebook platform "Naija Female Soccer" from her base in Bayelsa.
The 19-year-old Bayelsa Queens full back, widely regarded as the best right-back in the domestic league wishes the girls good luck and hopes her time will come to impress the team coaches.
"I wish them good luck. When you are playing for your national team, its a do-or-die affair. My time to show my stuff in the team will come.
"Falconets should go out there and play their hearts out. I believe the girls can do well in Tunis.
"The girls only have to have confidence in their abilities. They should apply the three D's- Determination, Desire and Dedication. Hardwork is the key to achieving any goal you plan,'' Ugo concluded.
•Queen Ejovwo targets Super Falcons squad
Bobruichanka full back Queen Ejovwo Willian is targeting a spot in Super Falcons' squad for next year's African Women Championship.
The 20-year-old admits she has what it takes to break into the senior squad despite the presence of some world class components in her position.
In early 2013, Queen completed a move from FCT Queens to Bobruichanka snubbing advances from Minsk and Umea.
And after swapping Nigeria Women Football League for life in Bobruisk, the defender made a lasting impression, immediately she has set her sights on being picked to play for the senior national side in next year's African Women Championship.
"I know that I have secured my spot (at Bobruichanka), but I will do my best to improve, while respecting the other players," Queen told a facebook group "Naija Female Soccer".
"I will train, play and do my best to get the trust of the manager and of the fans. There is no doubt Belarus football is very big, with huge visibility. I hope that helps me to be called up for the national team but of course that depends on me.
"I will have to play and prove I deserve that spot. In the coming season, I need to play well and be called up [by Nigeria], this is my goal."
Bobruichanka, made a number of impressive signings including Jane David, Tochukwu Oluehi, Joy Jegede and Loveth Ayila.
"The Nigerians [at Bobruichanka] all helped me to settle down, especially Joy Jegede, who told me to believe in myself. I was very happy to have them around and they certainly helped me a lot.
When asked on a likely move despite numerous offers on the table, the always smiling full back preferred to believe in God for direction.
"I have always believed in God for direction, my major concern for now is having a swell time on the pitch," she concluded.