PDP governors meet today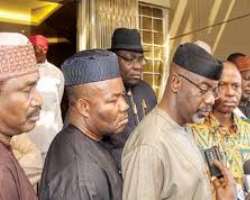 Goverors elected on the platform of the Peoples Democratic Party (PDP) will on Thursday (today) meet in Abuja to discuss issues affecting the party. The governors had met last week, where they recommended to President Goodluck Jonathan that Chairman of the party Alhaji Bamanga Tukur be eased off his post.
The governors are likely to follow up on their demand for the removal of Tukur, while also -x-raying letter former President Olusegun Obasanjo wrote President Goodluck Jonathan.