Church Politics And The Pulpit Extortion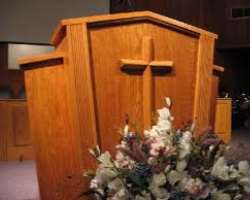 The word ''touch not my anointed and do my prophet no harm'' has been a word of disguise in which our modern-day men of God hid, to play church politics and extort money from purported Christians. This day modern 'men of God' have turn their call to service for God into a medium of self enrichment.

Their way of mishandling the money gotten for the work for God from the poor members of the church is now daily increasing with nobody asking questions rather the purported Christians now joins in the liquidation, siphoning, conspiracy and persecuting of the congregation and the work of God.
In this day churches, offering and tithes are now offered for uncountable times, even when contributions are being made by rich individual members of the church and communities to the development of the church and work of God.
The Church workers or church councils have also seen the house of God as a place they can make weekly income from, as they connive with these men of God in their dealings. The Harvest and Bazaar that we emulate from the Bible have now turn to cash-at-hand bazaar, but from indication, harvest and bazaar has to be a christian way of exchanging their agricultural products and investments in a cheaper or no price but our modern day 'men of God' have made it to be a medium of revenue generation.
I know a particular place of worship, whereby once a genuine 'man of God' is being posted to the church, the church councils will conspire and petition the person off and seek for a person that they can manipulate and control in order to maintain their way of bargaining from the church purse. I know a particular 'man of God', before he was posted or transferred out of the church he was serving, he siphoned the church account, leaving nothing for the next man of God.
I also know a particular church in which all the 'men of God' that served there, built and bought lands, houses, cars, and other valuable properties with the money they extorts from the congregation and members of the church. If you try to say what you observe, they will shout ''touch not my anointed and do my prophet no harm''.
Disclaimer:

"The views/contents expressed in this article are the sole responsibility of the author(s) and do not necessarily reflect those of The Nigerian Voice. The Nigerian Voice will not be responsible or liable for any inaccurate or incorrect statements contained in this article."