New Zik Avenue bridge in Enugu opens today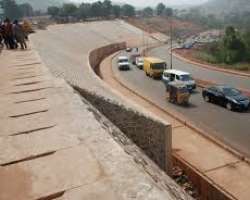 The newly constructed half a kilometre Zik Avenue bridge in Enugu urban will be open to traffic on Monday (today) almost two weeks after its total closure.
Enugu State Commissioner for Works and Infrastructure Goddy Madueke said the bridge, which was partially opened to ease traffic, was closed to enable the contractors work on the link road to Ogui Road from Zik Avenue and to complete the little portion that was left while the new bridge was being constructed by an Italian Construction company.
Madueke, who hailed Governor Chime for fulfilling the promise of delivering on the road, said  the new bridge replaced the old one which existed for over 50 years. He described the repair work as part of the promise-fulfilled.by Governor Sullivan Chime.
According to the commissioner, Chime has given a firm promise that he will complete all projects he initiated before he vacates office in 2015.
He said most of the on-going projects  in the state have reached between 70-95 per cent completion and assured that with the 2014 budget, 'most of the projects will be completed and commissioned before his tenure expires'
He described  projects like the Naira Triangle/Abakaliki Road dualisation, the New Haven Tunnel, the Akwata road, new Secretariat building, new Government House Building, many urban and rural roads among others being handled by Sullivan administration as 'land mark projects which the governor will be remembered for many years after he left office.'
'Because of high priority which the governor places on infrastructure, our budget has remained the highest since he came to power and this isreflected in 2014 budget which our budget is about N15 billion, an indication that all the projects being undertaken and even new ones that may be awarded must be completed before he leaves office,' he said.