THE CHILDREN OF THE FARMER MURDERED BY POLICE LEAD PROTEST ON WORLD HUMAN RIGHTS DAY IN BENIN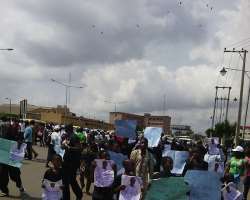 The Widows, Children, brothers and sisters of Late Samuel Imiakop with Civil Society members was on protest today the 10th of December, 2013 which is a day set aside by United Nation as Human Rights Day to protest the extra judicial and malicious murder of Samuel Imiakop who hailed from Akwa Ibom state. It must be noted that Mr. samuel Imiakop, a farmer who controlled a very big farm land at Ute community was brutally murdered by members of Edo State police Command Headquarters on the 24th of Novermber, 2013 on his way to his farm with four labourers he hired to work for him on his farm.
placards with inscriptions, such as : " Commissioner of Police should be redeployed,Police protect us, don't kill us, Our father is a farmer, not an armed robber, SSS should conduct investigation, Know Your rights, we say no to oppression and extra judicial killings of citizens.
We went to Edo State House of Assembly , Government House and Press Centre to register our protest and resentment.
The Speaker of Edo State House of Assembly, Uyi Igbe said the House would look into the issue of the alleged extra judicial killing. We are optimistic that Dei Gratia we shalll get justice. It was Ibrahim Momodu Yesterday, and Sameul Imiakop today, who knows the next victim? That is why we must all rise to the occasion to collectively agitate for these fatherless children and widows who need our help. It is only a moron that will say, I am not the person that is being oppressed, hence I need to silent. We say caboodle rejectamenta to extra judicial killing of the aminu kano's talakawa.