SSS quizes Junaid Mohammed over inflammatory remarks against Jonathan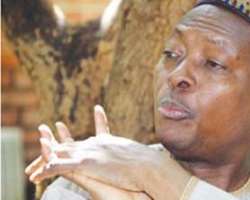 The State Security Service (SSS) on Friday quized Junaid Mohammed for making inflammatory comments about the President Goodluck Jonathan.
The unrepentant critic of President Jonathan was quoted as saying that blood would flow should Jonathan contest in 2015. Agency reports indicate that the politician was summoned to the SSS headquarters in the Abuja, where he was quizzed for several hours over comments credited to him suggesting there would be violence should President Jonathan stands for reelection.
SSS claimed Mr. Junaid told investigators he was quoted out of context and that he would not do anything to undermine the peace and security of his own country, the report said quoting a source.
He was said to have cautioned and then released after he gave an undertaking to refrain from making incendiary comments in future.
The agency said Mohammed confirmed that SSS 'invited' him for a chat and that he was released shortly thereafter. 'It is all over,' he said in a telephone interview. 'They (SSS operatives) were professional in their dealing with me. I can see they are a bunch of educated people who are equally concerned about this country.'