Anambra State College Of Agriculture Cries For More Staff, Autonomy, Others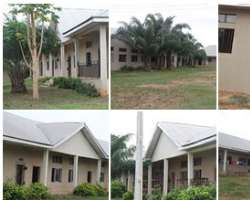 Anambra state College of Agriculture, Mgbakwu (ANSCOAM) has decried lack of qualified lecturers to man it various courses and implored the state Governor, Mr. Peter Obi to recruit more academic staff to the college for smooth running of its academic activities.
Acting Provost of the institution, Dr. Nneka Mefoh who disclosed this during the ANSCOAM 5th and 6thMatriculation Ceremony/Launching/Laying of Foundation stone for ICT, Staff offices and Classroom, held recently at its auditorium in Mgbakwu, Awka-North council area, added that insufficient teachers force the available ones to handle over 30 courses instead of less as ought to.
According to her, the College of Agriculture also want the state government to implement the college law, provide it with both academic and administrative blocks among other facilities to meet the National Board of Technical Education (NBTE) standard for accreditation of more courses and mounting of Higher National Diploma (HND) programme even as she demanded for absorption of its grandaunts as extension agents into Anambra state Civil Service Commission with a view to attract more students and youths to agriculture.
While commending Mr. Obi for giving breeze of fresh air to the institution since its relocation from Igbariam to Mgbakwu, its present location, on May 28, 2007, the Provost further reiterated the needs for youth empowerment through agriculture so as to boost food production and reduce unemployment and crimes to a halt.
Responding, Governor Peter Obi charged the over 100 matriculants to face their studies squarely, be law abiding citizens and shun cultism, prostitution among other vices, assuring that his administration would never take the plight of students or the general public for a ride.
Similarly, Mr. Obi paid tributes to the late former South African, President, Nelson Mandela and urged Africans (Nigerians specifically) to offer selfless service to humanity in all their endeavours.
Earlier speaking, the Commissioner for Agriculture and Rural Development, Mr. Ndubuisi Menakaya said that ANSCOAM was established to provide middle level manpower in sustenance of agriculture, noting that graduates of the college would form core extension services at both private and government agencies to be employed.