United States Government Calls For Cancellation Of Anambra Guber Election......Pharm Ikeagwuonwu Chinedu Klinsmann (Anambra State PDP)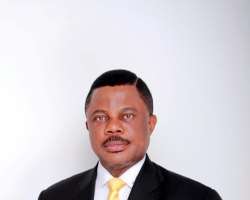 The United States Government has joined numerous calls asking for the cancellation of the Anambra State Election. The US Assistant Secretary Bureau of African Affairs, Ambassador Linda Thomas-Greenfield expressed this concern over the conduct of the Anambra State Guber by the Independent National Electoral Commission (INEC).
The United States Ambassador who spoke with press men in Abuja on Thursday 5th of December 2013 maintained that a transparent election in Nigeria remains a high priority for the United States and that the Anambra Stated Guber Election was not transparent confirmed our disposition that Anambra Guber Election was a Scientific Fraud.
Ambassador Thomas-Greenfield went on to pledge a US government assistance to Nigerian Government to ensure that the errors that led to the supplementary election in Anambra State are not repeated in future elections in Nigeria.
The United States Government spokes-person made it known that Anambra State Guber election was very problematic and un-transparent and that this seriously raises a concern about future elections in Nigeria and that Anambra Election does not reflect the will of the people.
In order to solve the problems created by the Anambra Electoral Fraud, the US Ambassador suggested that the United States Government will work with Political parties to ensure that a Re-election in Anambra State and other future elections especially the 2015 general election will reflect the will of the people.
We are very grateful to the United State Government that used her Satellite to X-ray the Guber Fraud in Anambra on the 16th of November and confirmed it for what it is, A CHARADE Based on this confirmation and further evidence of electoral malpractice orchestrated by APGA and INEC during and after the November 16th Guber election in the state, the Tony Nwoye Campaign Organisation and Anambra State PDP maintain our call for a total cancellation of the guber election and that the commission should organise a fresh election without delay.
We also ask our supporters to be hopeful, faithful and steadfast as the mountain of evidence of the fraud perpetrated by both INEC and APGA in our possession will ensure that the Tribunal cancels this fraud and call for fresh election.
Signed
Pharm Ikeagwuonwu Chinedu Klinsmann
Team Leader ICT and COMMUNICATION UNIT
Tony Nwoye Campaign Organisation
[email protected]