Learn Sincere Governance From Jonathan—Lagos PDP Counsels Fashola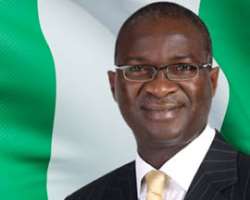 Governor of Lagos State Mr. Babatunde Fashola
The Lagos State Chapter of PDP has applauded the decision of the Federal Government to approve 1.3Billion Dollars in order to immediately commence construction of a deep SeaPort at Lekki, lagos State. The Party also commended the federal Government for approving 200 Million dollars loan sought by the Lagos State Government.

This is just as the Party has accused governor Fashola of playing bad Politics by frustrating the developmental programmes of the PDP councillors in their wards.
In the opinion of the party, the Federal Government's gestures at this time in particular to an opposition state government has further confirmed that the Goodluck Jonathan led PDP Government is indeed a government of development, with Human face and with Clear direction, contrary to the impression being sponsored by the APC.
"Unlike Governor Fashola and his councils chairmen who are deliberately witch hunting our few councillors by denying their Wards developmental projects, the PDP Federal Government has continually supported the Lagos State government to develop.
This is how progressive government is run.
Governance must be distinguished from partisan Politics and we salute President Jonathan for practising this. We hope governor fashola would learn such sincere governance from him"
Following the gesture, the Lagos State PDP has counselled the Lagos State Government to publicly appreciate the ingenuity and hands of fellowship of the PDP led Federal Government whilst it also admonished Governor Fashola to deplore the benefits as they are actually needed.
The party notes that the federal Government has monumental legacies within the state which are pillars upon which the Lagos State Government has been flaunting performance!
Such Legacies include: The Only Two Airports in the State; the SeaPorts; Railways; All the bridges connecting the Mainland and the Island; Police and Military installations; to mention a few.
Signed:
TAOFIK GANI
Lagos PDP