Anambra Guber Poll And APGA's Victory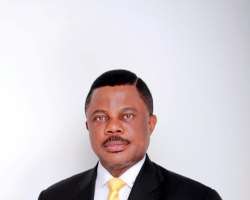 The Anambra State governorship poll conducted to elect the successor of the incumbent Governor Peter Obi of All Progressives Grand Alliance (APGA), whose tenure in office expires in March 2014 has come and gone, after all the hues and cries. It was obviously an interesting contest involving 23 contenders at the end of which victory came lying on the lap the APGA's candidate, Dr. Willie Obiano, a seasoned banker and chartered accountant of high standing.

The election, though, believed to be reasonably free and fair, was not without controversies, as some argued that the Independent National Electoral Commission (INEC) messed up the exercise. After the election was held on November 16, 2013, the chief returning officer, Prof. James Epoke, declared it inconclusive owing to the cancellation of results in about 210 polling units across 16 local government areas.
Against the call for total cancellation by the three major opposition candidates – Tony Nwoye of Peoples Democratic Party (PDP), Chris Ngige of All Progressives Congress (APC) and Ifeanyi Ubah of Labour Party (LP), INEC chairman, Professor Attahiru Jega, fully convinced that there was no substantial evidence to warrant outright invalidation, gave the go-ahead for a supplementary election.
However, Obiano, the man of the moment who had an unassailable lead before the exercise was declared inconclusive still coasted home to a landslide victory, proving right the contention by most political observers that should the election be conducted over and over again, APGA will remain the winning party. It was argued that there was no way any other party would have won the Anambra election with the remarkable and outstanding achievements of the Obi-led APGA government in the state, coupled with the neutrality and maturity exhibited by President Goodluck Jonathan by allowing the electoral body to operate without any form of manipulation.
Declaring the result formally after the supplementary poll held on November 30, 2013, Prof. Epoke, said the APGA candidate, Obiano scored 180,178 votes to carry the day. According to him, Nwoye of PDP and Ngige of APC had 97,700 and 95,963 votes to emerge second and third respectively. Ubah of LP came fourth with 37,495 votes and Godwin Ezeemo, candidate of Progressive Peoples Alliance (PPA), clinched the fifth position with 5,120 votes. Of the 1,776,167 registered voters in the state, 465,891 people were accredited and total vote cast was 442,242. Voided votes were 16,988 and valid votes were 425,254.
National Chairman of APGA, Chief Victor Umeh is one of those who strongly believe that the provision of dividends of democracy for the people of the state by Governor Obi was the main reason why the electorate wholeheartedly voted for the candidate of his party.
Umeh noted that in spite of all the challenges, Obi demonstrated his modest but tough nature, stressing that without him the party would not have emerge triumphant in the poll.
"Our victory did not come to us as a surprise despite the noise by the opposition. It was his (Obi) achievements that earned us this victory. For the first time, APGA got 25 per cent in 19 local governments. The last time in 2010, APGA scored 25 percent in 15 local governments. For us to achieve this feat, you are not found wanting. It shows that you have achieved victory. You fought like a bull and a lion. You have secured for yourself a special place in this party. We, members of APGA are grateful to you," Umeh told Obi.
The APGA boss, who maintained that the party presented highly competent and qualified candidate in the person of Obiano for the election, equally commended President Jonathan, for keeping faith with democracy. He stated that if not for the President who despite being a member of the PDP ensured that the votes of the people counted, APGA may not have emerged winner, assuring Jonathan of the party's continued support for his administration. Umeh who has won series of legal battles to retain his seat as APGA's helmsman likewise applauded Jega for doing a wonderful job and refusing to be distracted in the face of pressure and propaganda from the losing parties.
Commenting on the victory of APGA, Secretary to Anambra State Government (SSG), Mr. Oseloka Henry Obaze said: "I join all well-meaning Nigerians and especially Ndi Anambra in congratulating Chief Willie Obiano, and Dr Nkem Okeke on their election as governor-designate and deputy governor-designate of our dear Anambra state. Chief Obiano's choice and sweeping victory to lead Anambra is a clear vindication of our position that APGA could field an eminently qualified candidate from the Northern senatorial zone and still win the gubernatorial election.
I salute all those who stood resolutely with the North, especially HE Gov. Peter Obi, APGA Chiarman Chief Victor Umeh and those who made selfless sacrifices to bring that democratic aspiration for equity to fruition. The resounding victory by APGA, is a clarion call on all erstwhile aspirants and contestants to rally and support our newly elected leaders and help them take Anambra State to greater heights. I wish Chief Obiano and Dr Okeke, God's abiding Grace, Blessings and Protection now and always, as I pledged my steadfast support to them in their undertaking of the huge governance tasks ahead."
In his congratulatory message to APGA's candidate on his emergence as the governor-elect, Jonathan urged him to dedicate himself to building on the impressive performance of Obi who will be handing over to him.
The President message contained in a statement signed by his spokesman, Reuben Abati, reads: "To promote greater peace, unity and harmony within the state, President Jonathan calls on Chief Obiano to ensure that his incoming administration carries all stakeholders along in its bid to move Anambra forward. The President assures Chief Obiano that the Federal Government under his leadership will continue to work with the Anambra State government and all other state governments to achieve better living conditions for all Nigerians.
Having also noted complaints about the conduct of the governorship elections in Anambra, President Jonathan calls on all aggrieved persons to keep their bids for redress within the bounds of legality, decorum and acceptable political conduct in conformity with the principles of democracy and the rule of law."
I wish to urge Obiano to listen to the call on him to extend hands of fellowship to those who contested with him. He must not be carried away by his victory. Rather, he should do everything possible to carry everybody along in whatever plans he has for the state.
While I disagree with those calling for Jega's neck due to some of the hiccups recorded in the Anambra guber poll, I want to implored INEC to work hard to ensure they live up to the expectations of the people in subsequent elections. Much as we know that nowhere in the world can you have a perfect election as being pointed out by many, effort must be made by the electoral body to give Nigerians elections where irregularities will be reduced to the barest minimum. It is also noteworthy to commend the entire people of Anamabra State for conducting themselves properly during the election period, such that there were no cases of violence all through the exercise.
Michael Jegede, a media practitioner
who wrote from Abuja
07065574368
Disclaimer:

"The views/contents expressed in this article are the sole responsibility of the author(s) and do not necessarily reflect those of The Nigerian Voice. The Nigerian Voice will not be responsible or liable for any inaccurate or incorrect statements contained in this article."
Articles by Michael Jegede