Young Actresses Flop Idowu Philips' (Iya Rainbow) Affair With Corporate Pictures Boss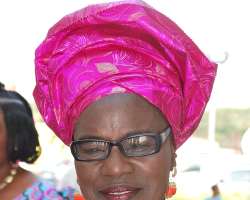 Before now, Idowu Phillips popularly called Iya Rainbow in the movie industry was having a sweet relationship with Alhaji Abdulrasaq, Corporate Picture boss, so sweet was their relationship that the woman confessed the great marketer is the only one that was good to her in all ramifications businesswise.
Recent event, however, is saying contrary, as we gathered that the blossoming relationship between the 71-year old veteran thespian and the marketer has gone sour, no thanks to the new crops of Nollywood actresses who have snatched him from her.
According to Mama Rainbow, "when I was still active as a producer, my marketer, Corporate Pictures, was faithful to me. In fact, he bought my car for me. But since he stopped doing business with me, God has not abandoned me. He never cheated me. Before now, he would make me most welcome in his house, but suddenly, he changed. I don't know why and I don't want to bother myself about that. Though it pains but, God knows best."
The aged movie maker and a widow also shares some of the challenges she faced while growing up in the business and of course the one she is currently faced with because of old age.
"There were lots of personal and industry challenges I faced in the early days and even till date. For instance, the issue of transportation has remained. I transport myself to and fro locations and at the end of the day, I'm given peanuts as my pay even at times, I'm not paid for my efforts because people that promise to pay later, end up not paying once the job is done. Sometime all I get paid is N25, 000. 00. Imagine a widow with five children surviving on such a meager fee? It got to a point I wanted to go back to nursing. A lot of people advised against it arguing that my husband's memory would be forgotten. The Yoruba movies industry needs total transformation. Producers are not helping matters and nobody is saying anything. All they want is money. If only Government can assist, I believe things will be better."
© 2013 Nollywoodgists.com
Click the link below to go to...
Omotola Says No To Girl Child Marriage
Charles Novia - 'GOD PUNISH YOU, SENATOR YERIMA'
You Lack Integrity To Abuse Senators-F​ans Blast Stella Damasus
(VIDEO) Condemns Child Marriage: Stella Damasus Spits Fire!
Femi Fani-Kayode Replies Senator Ahmed Yerima On His Response to Underage Marriage.
SENATORS ARE OLODO'S , MUMU'S AND FOOLS- TONTO DIKEH SAYS.
ACTRESS MONALISA CHINDA SPEAKS OUT ON THE GIRL CHILD MARRIAGE BILL