Anambra PDP chairman kidnapped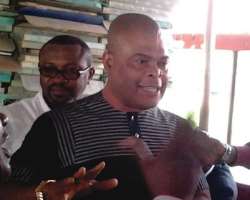 The -Chairman, Peoples Democratic Party (PDP) in Anambra State, Mr. Ken Emekayi, has been reportedly kidnapped.
It was learnt that Emekayi was kidnapped on Sunday at Anyafuijiji junction in Agulu, Anaocha Local Government Area of the state between 7p.m. and 8p.m.
A member of his family who spoke to THISDAY on the condition of anonymity yesterday, said the kidnappers had opened a channel of communication with the family but declined to disclose the exact ransom they were demanding or where he was being held.
He simply said negotiations had begun and he would not know if the abduction was politically-motivated.
But the state Commissioner of Police, Mr. Akila Usman Gwarry, told THISDAY on phone yesterday that the police had not been briefed on the development.