Togo opposition snubs poll result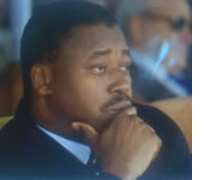 The main opposition party in Togo says it does not recognise the result of the election that has returned President Faure Gnassingbe to power.
The Union of Forces for Change said there was widespread fraud and it planned to challenge the result in the country's Constitutional Court.
The party said its leader, Jean-Pierre Fabre, had won the poll and would form the next government.
Mr Gnassingbe is the son of a late dictator of Togo.
He won 1.2 million votes of two million cast, officials said, considerably more than his rival's tally of 692,584, election officials said.
Calm, so far
But the UFC's director of communications, Eric Dupuy, said the results from the country's 35 constituencies were read out before being validated at the electoral commission and the announcement was illegal.
Mr Dupuy told the BBC the party was challenging the result, even though it had no faith in the Constitutional Court as an independent body.
"We shall fight," Mr Dupuy was quoted by AFP news agency as saying.
Reaction on the street has been limited with a small opposition demonstration quickly dispersed by tear gas on Saturday, says the BBC's Caspar Leighton in the Togolese capital, Lome.
International observers have praised the relatively peaceful nature of the election.
But they have also pointed to deficiencies at all stages of the process without saying whether they were enough to effect the outcome, our correspondent says.
In 2005, when President Gnassingbe won his first term, there was massive violence and hundreds of people were killed.
In the run up to this vote, all parties called for calm. So far the calm is just about holding, says our correspondent.