Results Of The Supplementary Election Continues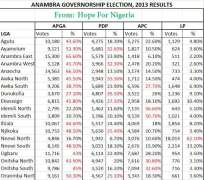 LP 3
APC 27
PDP 46
APGA 104
Invalid Votes 7.
Idemili North
Collection Center final results;
Total vote cast 1,709
APGA= 451 votes
PDP=355 votes
APC= 784 votes.
LP= 03 votes.
Abatete
Idemili North
Amamkpume PU:004
APGA: 109 Votes
PDP : 85Votes
APC: 50 votes
Ide Chukwuemeka Okose reporting live from polling booth.
UP APGA..............
In Ogidi...Polling Booth 012. APGA 104 APC 27 PDP 46 LP 3
Booth 024 APGA 24 PDP 8 APC 13
Booth 25 APGA 25 APC 21 PDP 8
Anyaeji Junction Onitsha North APC 7 APGA 37 PDP 5 LP 0
Oraiffite Uruezeakwa ward II APGA 20 PDP 19 APC 1
Amamkpume PU:004 APGA: 109 Votes PDP : 85Votes APC: 50 votes
Christ The king parish Ekeagu Idemili N. PU 20 APC 39 APGA 3 PDP 4
PU 21 APC 26 APGA 12 PDP 3
RESULT OF SUPLEMENTARY ELECTION IN EKWUSIGO Ozubulu Ward IV Unit 17 [Ubahu Village Hall II APGA 48, APC 1, APA 1, PDP 35, Kowa 1
Oraifite II [Uruezeakwa Centre I] APGA 64, APC 2, CPP 1, LP 1, PDP 56
Oraifite II [Uruezeakwa Centre II] ACPN 1, APGA 20, PDP 19,
2013-11-30 201041