Kano's War Against Beer Bottles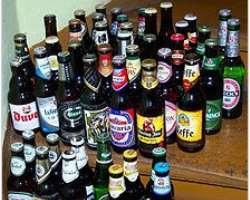 Activities marking centenary of the amalgamation of Northern and Southern Nigeria into an entity known geopolitically as Nigeria are well under way.
With less than four weeks into 2014 which will make Nigeria's amalgamation one hundred year old, certain political developments with far-reaching significance are happening in rapid speed and succession all across the diverse segments of the Nigerian nation State.
Kano state government has the unconstitutional reputation for unleashing state -sponsored activities with one-sided religious connotations that directly question the constitutional validity of Nigeria's secular status as enshrined in section 10 of the Nigerian Constitution.
Section 10 of the Nigerian constitution unambiguously states thus, "the government of the federation or of a state shall not adopt any religion as state religion".
But since the operation of the current constitution Kano and a few other Northern Nigerian States have introduced several policies and agencies that not only directly violates section 10 of the constitution but questions the legitimacy of Nigeria's continuous existence and survival as a sovereign political entity whereby all her citizens have signed on to one constitution that is valid and binding on all persons and authorities.
Many observes especially in the Southern parts of Nigeria and even from among Northerners who still hold on to the ideals of a United secular Nigerian sovereign entity have being forced to ask pertinent question why the successive political administrations in Kano have had to operate and still operates as if Kano state is above the law of Nigeria and the tenets enshrined in the constitution.
One of the wonders that beats most people's imagination is that the federal legal authority comfortably looks the other way while Kano state's political administration continues to breach extant provisions of the law and carry out extra-constitutional functions that not only impinge on our unity as a nation but undermines the economic wellbeing of some Nigerian investors most of who left their places of birth/origin to settle in Kano state given that Kano used to occupy a pride of place as a commercial capital of Northern Nigeria prior to the resurgence of armed Islamic insurgency two years back.
Kano state government for over ten years has run a religious police known as hisba which contradicts section 214(1) of the Nigerian Constitution.
Specifically, section 214(1) of the Nigerian constitution of 1999 (as amended) clearly provides thus; "there shall be a Police Force for Nigeria, which shall be known as the Nigeria Police Force and subject to the provisions of this section no other police Force shall be established for the federation or any part thereof".
The probing question is why is the Nigerian federal government tolerating the impunity actualized through the existence of a parallel police force in Kano that has religious orientation even when Kano state is home to Muslims, Christians and free thinkers including traditional African religion adherents?
Why has the state governor in Kano in the last decade authorized the existence of these clear constitutional violations even when the governors individually swore to an oath of allegiance to Nigerian constitution and oath of office?
For instance, the seventh schedule which in the preamble encompasses the Oath of allegiance obliges state governors including the nation's President, the Deputy governors and Vice President to solemnly swear that they will individually be faithful and bear true allegiance to the Federal Republic of Nigeria and to preserve, protect and defend the constitution of the federal Republic of Nigeria.
Similarly, the Oath of office obliges governors and other key officials of government aforementioned to not allow their personal interest to influence their official decisions.
Why then is Kano state allowing the persistent rape of the Nigerian Constitution even while the rest of us stand by and watch and even those who constitute the legal authority of the Nigerian government are happy to watch this monumental impunity go on in that state?
Few weeks back, I have had cause to raise my patriotic concern on the overzealous extra-legal activities of this Kano state Islamic religious police when the operatives of this unconstitutional contraption went about publicly arresting Nigerian citizens in Kano state for dressing in ways that make them conform to their modern contemporary dress sense similar to their peers in the developed nations.
Emboldened by the collective silence of the office of the Federal Attorney General and the Nigerian state, this same Kano religious police has upped the ante by wantonly wrecking havoc on the economic activities of law abiding Nigerians who deal on beer and alcoholic beverages and indeed who pay taxes to the Nigerian state from which Kano state government draws up allocation monthly.
Before delving into the facts of what happened recently in Kano which I hereby call Kano's war against beer bottles, let me remind my readers that Kano as a unit within the sovereign entity called Nigeria, is a beneficiary of the monthly allocation which is made up of fund paid in by federal tax collectors from breweries and marketers of beer and so why the hypocrisy of destroying one of the vibrant source of these distributable funds but at the same time Kano state goes cap in hand every month to Abuja to cash these allocations?
Section 162(1) of the constitution states thus; "the federation shall maintain a special account to be called the federation Account into which shall be paid all revenues collected by the government of the Federation…."
Kano state political administrators who go about destroying beer bottles of innocent marketers of alcoholic beverages and at the same time benefit from the nation's distributable pool account are like the father who said he does not eat rat meat but uses his tooth to share the cooked rat meat for onward distribution to his children.
This economic sabotage and genocide going on in Kano state must be halted if we still value our togetherness as one United Nation.
On Thursday November 28th 2013, the International Community woke up to receive the shocking news that Islamic police in Kano destroyed 240,000 bottles of beer in Kano State. What we are not told is the economic deprivation that this constitutional a violation of the economic right of Nigerians amounts to.
In reporting this incident, the global media Reuters asserted that the Islamic police in northern Nigeria's main city of Kano used an earth haulage truck to destroy around 240,000 bottles of beer seized from supply vehicles and minority Christian shop owners.
Reuters recalled that alcohol is banned under sharia (Islamic law) in Kano and several other mostly Muslim northern states, although it is consumed in some areas especially the Sabon Gari district housing mostly Christian ethnic Igbo traders from the southeast.
But a missing link in this report is the mischief in not reporting that Nigeria operates one united constitution whose provisions are supreme and if any statutes in existence contradicts any section of the Nigerian constitution that statutory provision to the extent of its inherent contradiction to the Nigerian constitution remains null, void and of no consequences.
The fact remains that beer is a popular beverage patronized by most Nigerians of all religious or social orientations and these products are not only very legal in Nigeria but the marketers and manufacturers pay heavy taxes to the Nigerian State from which monthly allocations are distributed to all segments of the Nigerian nation including Kano state which collects huge chunk.
But in Kano state those who breach the Nigerian constitution are proud to announce that they are doing the will of their creator and they conveniently forgot that Nigeria is a country governed by law and not by the whims and caprices of some self-appointed religious zealots.
"We thank God that our command has successfully destroyed about 244,151 bottles of beer of different sorts. We hope (this) will help restore the tarnished image of Kano," said Sheikh Aminu Daurawa, head of the Hisbah uniformed Islamic squad at the site where the truck crushed the bottles at the city's edge, while speaking with foreign agency reporter.
On the other hand, those innocent Nigerians whose legitimate commercial businesses are destroyed are crying foul even as the Nigerian government does practically nothing to bring this rascality of breaching the Nigerian constitution to an end rapidly.
"The sharia officials have crippled my business," alcohol shop owner Johnson Ikechukwu told Reuters. "I feel seriously cheated over the seizure and destruction of my beer."
To underscore the popularity of beer beverages all across Nigeria the Reuters reporter emphatically stated thus; "Despite growing religious piety and the adoption of ever more zealous brands of Christianity and Islam, beer turnover in Nigeria is growing faster than its economy's 7 percent rate. The north is also increasing its consumption."
Why has Kano state political administrators decided to play the role of joy killers and social spoilers of this huge fun enjoined by most citizens legally?
As the current Nigerian State plays around with the concept of convocation of a national conference, one item that must be tabled for debate is what to do with state governors who turn their backs on the Nigerian constitution which they swore to protect but soon after their inauguration, these persons allow their personal whims and caprices to determine their official functions.
Nigerians must condemn in the strongest possible terms, this needless grand scale economic sabotage and commercial genocide by the Kano state government-funded religious police to undermine the economic activities of Nigerians who deal on beer and who as good citizens pay their taxes to the Nigerian state.
What then will happen if a state like Anambra that is almost 100 percent Christians decides to set up Christian police to go after certain businesses that do not conform to the teachings of Christianity?
Why do the Supreme Court Justices and the office of the Federal Attorney General behave as spectators while Kano state government in the past ten years embarked on constitutional violations?
Emmanuel Onwubiko is with HUMAN RIGHTS WRITERS ASSOCIATION OF NIGERIA; [email protected]; www.huriwa.org.
Disclaimer:

"The views/contents expressed in this article are the sole responsibility of the author(s) and do not necessarily reflect those of The Nigerian Voice. The Nigerian Voice will not be responsible or liable for any inaccurate or incorrect statements contained in this article."
Articles by Emmanuel Onwubiko